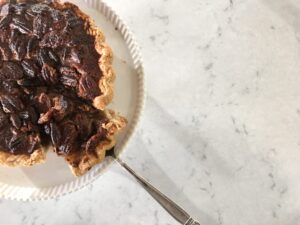 Oh hello there! I feel like I personally dropped off the face of the earth this year. Adam and I opened a new shoppe, Blacksmith & Co. (home & lifestyle shoppe | collective workspace) in the same building as the bakery. It is set in our glorious old historic building and features the original haylofts of what once was a blacksmith shop (see the connection there?!). That has sucked my soul in the best way possible (it's basically personal shopping, you guys!), but it has kept me going non-stop to say the least. The bad news is that I haven't had much time to play around with recipes and take my favorite simple clean photos of my baking and cooking.
Thanksgiving to Christmas is my busiest time. Well, maybe summer/wedding season is – it's a toss up lately! With holiday baking for the bakery and shoppe styling for Blacksmith, and planning for a new year at both stores and general end of year madness, I've been focusing on another secret project too. So there's a lot happening in this crazy brain of mine. When I hit the peak of my madness, nothing calms me down like being in the kitchen a bit. I kick my husband out, or wait until the staff is gone at the bakery and keep the lights dim, turn on some Alabama Shakes, strap on my apron, and steal some time away to focus on my calling. It really puts things in perspective and gives me a whole batch of fresh ideas by being inspired by my most basic of kitchen functions.
Would you believe that I'm not really that big on pie?! Like, it's okay. But, isn't a cookie better?! I realized I prefer graham crust pies over flaky crust pies. And then I realized, no, I just hate crappy pie. Crappy pie is a sin. I'll never understand why people "cook" when they are hacking their way through. Or, when you stop and taste the result… are you really okay with that? Let's have standards people. Let's make pie that's praise-worthy. I'm turning a new leaf when it comes to pie and I'm slowly building up my flaky crust base pie repertoire.
When all else fails, spike your pie! This whiskey pecan pie turned me onto pecan pie in the first place. I needed to make dessert for my husband's family holiday party and pecan pie is a favorite over there. I instinctively grabbed the bottle and poured in a nice hearty dose of whiskey. It's possible I overdid it that first time, but it's always a hit after I perfected it. The best part is that if you keep this pie crust recipe in your rotation, you will never have to start out making the pie crust (just grab one from the freezer!). If that's the case, it will take no more than 10 minutes to fill and the rest is baking and resting time.
Whiskey Pecan Pie
9″ Pie Plate, Serves 8-10
*Baker's Note: Not to be a broken record, but all of my ingredients are non-gmo, mostly organic (quality is better than a label, my friends!), and from sources I have researched. At my bakery, I am constantly asked why my cookies or cakes are so amazing and my answer is always quality of ingredients. It is no joke, and I guarantee it will be a game changer with the simplest and trickiest recipes.
Pie Crust
(makes 3 – use one, freeze the rest for later!)
Ingredients
3 cups flour
1 ½ cups (12 ounces) COLD butter, cubed
1 tsp salt
1 egg
4-5 TBS cold water
Pecan Pie Filling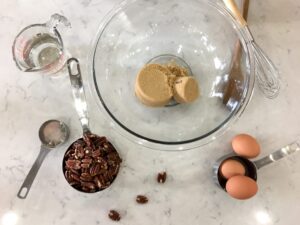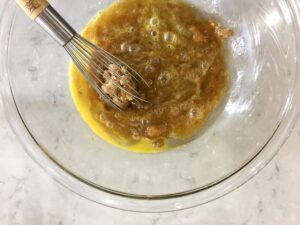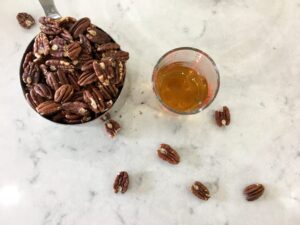 Ingredients
1 ¼ cups brown sugar
¾ cups corn syrup (non-high fructose) or agave syrup
1 tsp vanilla extract
¼ c. whiskey or bourbon, whatever you have on hand
¼ tsp salt
3 large eggs
2 cups pecans, untoasted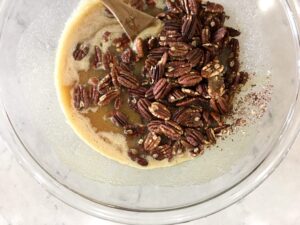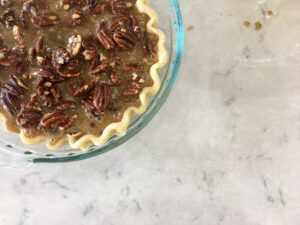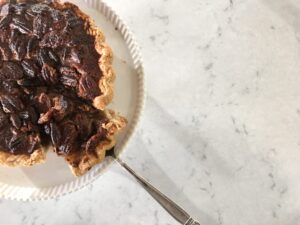 PROCESS
Side Note: Pie crust shaping is a true art form for some. If I'm trying to impress, I'll spend a little extra time making cut outs for the crust, or perfectly fluting the edges. Pie is supposed to be rustic, so don't stress about spending 13 hours on pie crust art if you don't have the time.
Crust
Combine flour, butter, salt and egg. Whisk with a fork until combined. Switch to your hands or a wooden spoon and break up the butter until a scraggy flake of butter in varying sizes appears throughout.
Split dough into thirds. Shape each dough section into a round disk. If only using 1 pie crust, now is the time to wrap the extra dough disks in plastic wrap and freeze (or be extra sneaky like me and shape the crusts into pie plates so they are ready to fill from frozen!). Save it for when the pie craving strikes!
With a rolling pin, roll dough in to a round, rotating 90 degrees after each roll. Place your pie plate on top of disk to measure the size. You will need a 3" diameter larger than your pie plate.
Place dough into pie plate and lightly trim edges. Shape the crust with your fingers or crimp onto pie plate lip with a fork. Have fun with this and don't make it too fussy.
Place pie crust in refrigerator to cool until firm before filling.
Filling
Stir all ingredients, except pecans, together until smooth.
Roughly chop half of the nuts and mix with whole nuts. Set aside.
Assemble
Scatter Pecans into pie crust. Pour filling over pecans – do not mix once you pour the filling in.
Set pie plate on a cookie sheet.
Bake at 375 degrees for 45 min or until set (no longer jiggly in the middle).
Let cool on counter for 2 hours before serving.