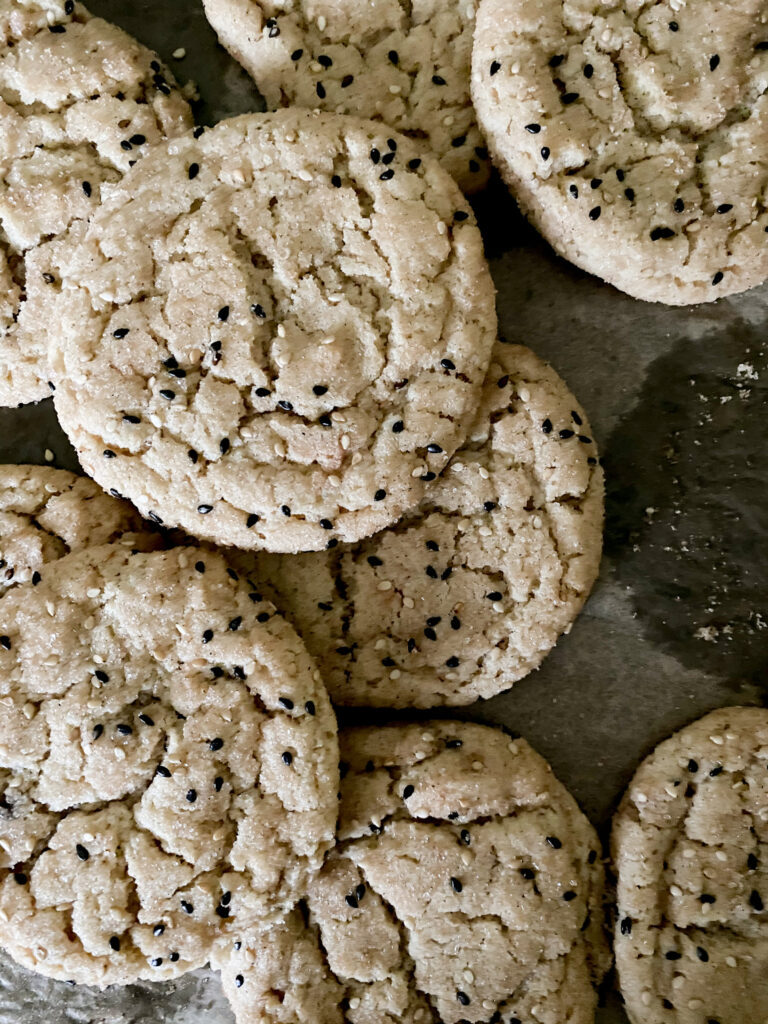 I've never really been a fan of snickerdoodles. They are just too… flat. boring. blah. lacking. They are okay, and sure i've made them for holiday cookie trays here or there because they seem to be a nostalgic favorite for some. I've had a jar of of Tahini floating around in my fridge that I wanted to use up and it hit me that this might be the moment the snickerdoodle could change my mind. With a little extra depth of flavor, I've reinvented the too-American cookie.
Tahini-Doodles
Yields: 12-15 – 3″ cookies
Ingredients
1-1/2 sticks (12 TBS) butter
1/3 c tahini
1 1/3 c sugar
½ tsp salt
Splash vanilla
2 eggs
2 ¾ c flour
2 tsp cream of tartar
1 tsp baking soda
SUGAR ROLL-IN MIXTURE:
1 c sugar
4 TBS cinnamon
1/2 tsp Nutmeg
1/4 tsp Cardamom
1 TBS White Sesame Seeds
1 TBS Black Sesame Seeds
Process
1. Preheat oven to 350 degrees. Make the Sugar Roll-In mixture – combine all ingredients in a medium bowl and mix thoroughly.
2. In the bowl of stand mixer, or mixing bowl with hand mixer, cream Butter, Tahini, Sugar, Salt and Vanilla Extract on medium-high speed for 5-7 minutes until light, pale and volume has been incorporated. The sugar should be noticeably less granular when it is done creaming. Stop to scrap the sides and bottom of the bowl several times to ensure a perfectly blended mixture.
3. Add in Eggs and mix on medium-high for another 2-3 minutes until combined and smooth.
4. Add Flour, Cream of Tartar, Baking Soda to bowl. Blend on medium speed until just combined.
5. Using a cookie/ice cream scooper, scoop even portions of the cookie dough directly into the bowl of cinnamon and sugar spice mix. Roll around until thoroughly coated and place on cookie sheet spaced 4″ apart (9-12 per half sheet tray).
6. Place cookie tray in middle rack of oven and bake 12-15 minutes or until just set in the middle. You do not want to over-bake or they lose the signature soft chew!
7. Let cool 10 minutes before enjoying!