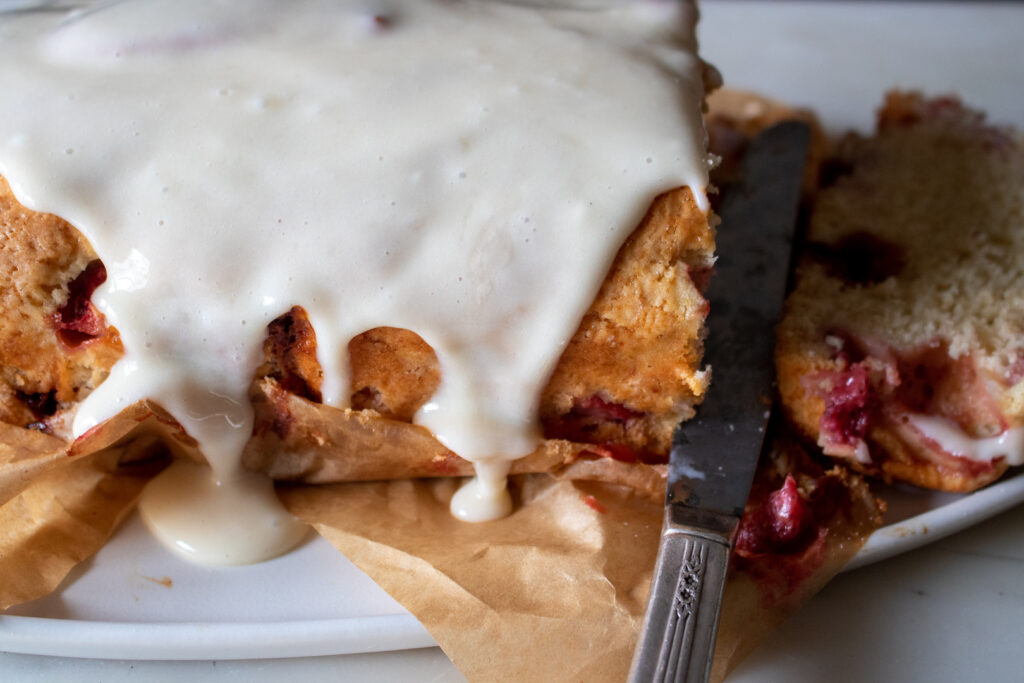 If you're like me, you likely end up with a handful of berries that somehow got pushed to the back of the fridge, right? They either got a little soggy from the almost freezer-like back wall, or they are not cute enough to look at, but not bad enough to toss in age. This muffin quick bread is the answer. Not too sweet, this loaf has a light pound cake-like texture. Though the star of this show is definitely the mascarpone glaze, I hope you'll find a million ways to use the muffin bread recipe with any berries you have on hand.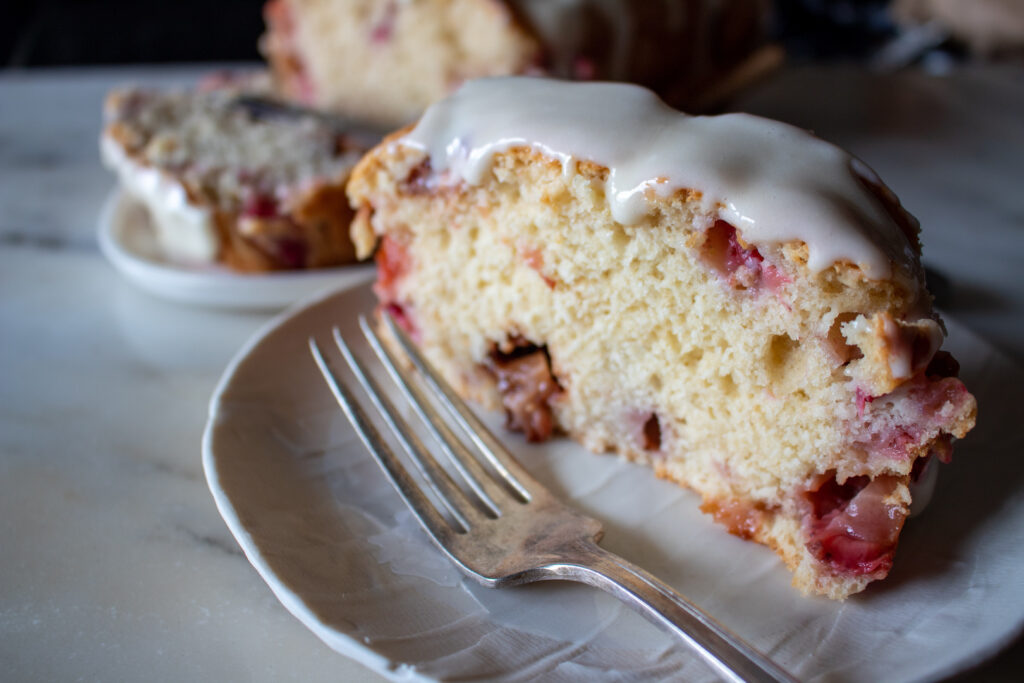 Strawberry Muffin Bread
Yields: 1 – 9″ loaf, Serves 10
Ingredients
CAKE
1 1/2 c. chopped strawberries (or whole raspberries, blueberries or blackberries – even a mixture)
1 tsp almond extract (or orange blossom water, rosewater, pick your favorite flavor!)

1/4 c. (half a stick/4 TBS) unsalted butter, room temperature
3/4 c. granulated cane sugar
1 tsp vanilla extract
1/2 tsp salt
1 large egg
2 c. all purpose flour
2 tsp baking powder
1/2 c. milk
GLAZE
1/4 c. mascarpone
1 tsp vanilla extract
1/8 tsp salt
1/2 c. powdered sugar, sifted
Process
Preheat oven to 350 degrees and butter the short sides of a 9″ x 5″ loaf pan, line the bottom with parchment paper, leaving overhang on the long sides.
Pour the almond extract over the berries, lightly toss and set aside.
In the bowl of your stand mixer, fitted with the paddle, add the butter, sugar, vanilla extract and salt. Mix on medium-high speed until light and fluffy, about 5 minutes.
Add the egg and mix on medium speed to incorporate. Turn to medium-high and and whip until pale yellow and you achieve a ribbon-like texture.
Add the flour and baking powder and mix, on low speed, until there are just a few traces of flour left.
By hand, mix in the berries and any liquid until mixed throughout.
Bake for 55-60 minutes, or until the top middle is set and the cake is light golden brown.
Let cool completely in the pan, about an hour and a half.
Remove the cake from the pan and place on your serving platter.
Make the glaze: In a small mixing bowl, using a spoon or small whisk, stir the mascarpone, vanilla extract and salt until softened and smooth. Add the powdered sugar and stir until fully incorporated and smooth.
Pour down the middle of the cake from front to back and let drizzle down the sides.
Let set for about 30 minutes before cutting.