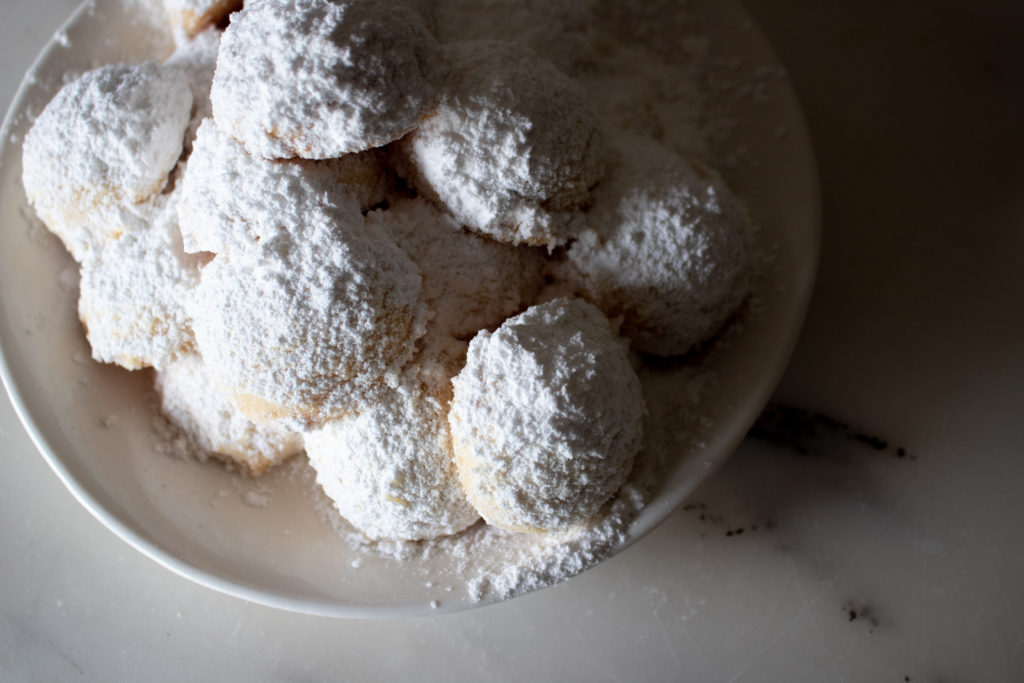 You know those cookies that EVERYONE makes? They are buttery and light, always a slightly different shape, but always entirely piled high with powdered sugar and always on a cookie tray? Here are a few names they go by: Kourabiedes (hi Greek friends!), Mexican Wedding Cookies, Sandies, Crescents, the list goes on. Every culture seems to have a version of this cookie, but they all have one thing in common that I love… they are never too sweet despite the almost-offensive amount of powdered sugar on them! I started calling these Snowballs at my bakery because it was just plain cute, so here they are – my version of a perfect little cookie for sharing over tea or gifting to a friend during the holidays (or any time of year).
Snowball Cookies
Yields: approx. 36 – 2″ cookies
*Baker's Note: Not to be a broken record, but all of my ingredients are non-gmo, mostly organic (quality is better than a label, my friends!), and from sources I have researched. At my bakery, I was constantly asked why my cookies or cakes are so amazing and my answer is always quality of ingredients. It is no joke, and I guarantee it will be a game changer with the simplest and trickiest recipes.
Ingredients
1-1/2 c. (12 oz, three sticks) Unsalted Butter, room temperature
1 c. Sugar, granulated
1/4 tsp. Salt
1 tsp Vanilla Extract or scrape half a vanilla bean (use the BEST, it really shines here! you can purchase my vanilla extract here)
1 large Egg
3-1/2 c. All Purpose Flour
3/4 c. mix-ins, if desired – nuts or chocolate chips, dried fruits, etc.
GARNISH: 3 cups Powdered Sugar, in a bowl, set to the side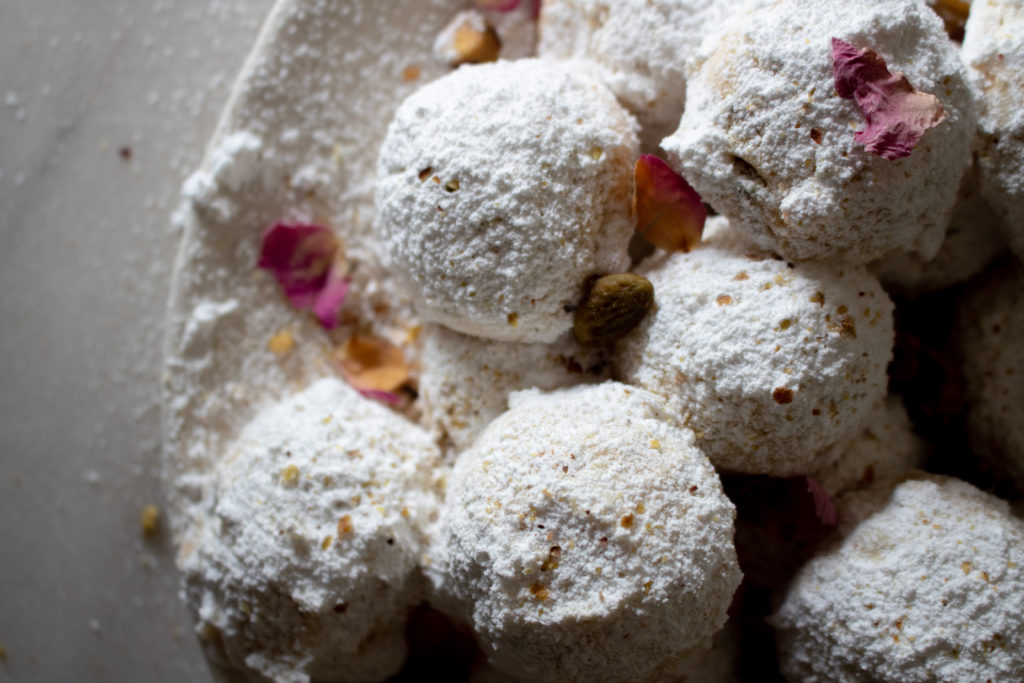 Process (line 2 cookies trays with parchment paper and set aside)
1. In the bowl of stand mixer, or mixing bowl with hand mixer, cream Butter, Sugar, Salt and Vanilla Extract on medium-high speed for 5-7 minutes until light, pale and volume has been incorporated. The sugar should be noticeably less granular when it is done creaming. Stop to scrape the sides and bottom of the bowl several times to ensure a perfectly blended mixture.
2. Add in Egg and mix on medium-high for another 2-3 minutes until combined and smooth.
4. Add Flour and any mix-ins to bowl. Blend on medium speed until just combined.
5. Using an ice cream scoop or spoon, start portioning out balls of dough and place on a cookie sheet, about 2″ apart – they do not spread much.
6. Pop cookie tray(s) into the freezer for about 15 minutes and Preheat oven to 300 degrees.
7. Place trays into oven and bake for about 15-18 minutes, rotating halfway. Set a cookie cooling rack on a tray or over a sheet of parchment paper (to easily clean up the snow-mess to come).
8. As soon as the cookies come out of the oven, carefully transfer them, in batches, into the bowl of powdered sugar and fully immerse and coat. Transfer to wire rack, placing them as close together as possible. Do this with all of the cookies.
9. Place any remaining powdered sugar from bowl into sifter and give a tap over the cookies – their second coating and let cool completely.
10. Transfer to an airtight container. Will keep for up to a week.
LOOKING FOR A MORE INTERESTING FLAVOR? Take a peek below for my ideas…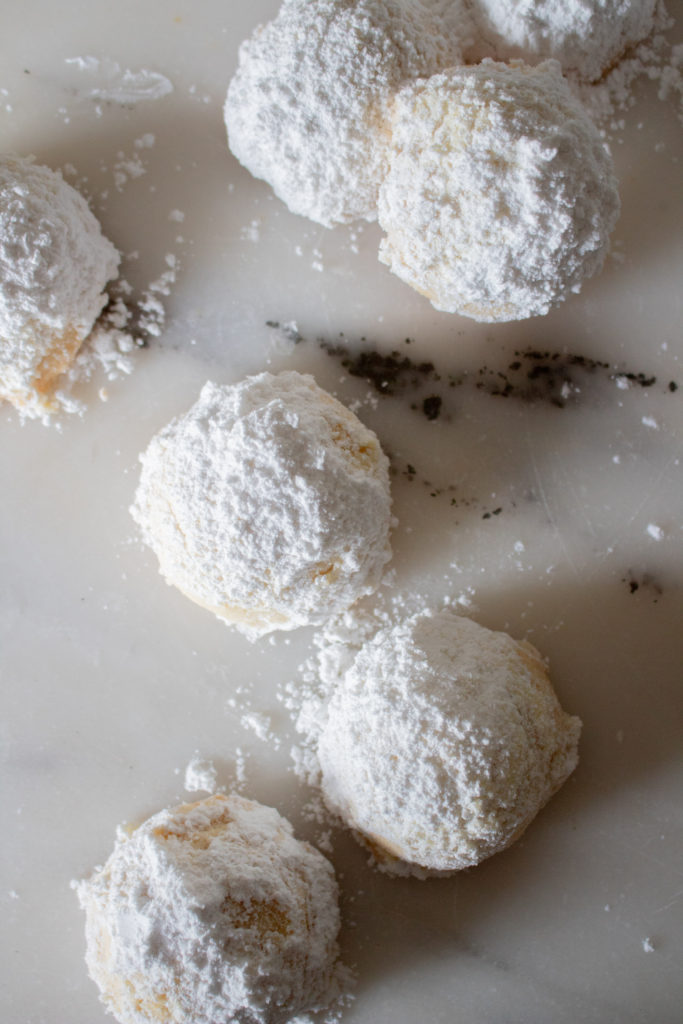 FLAVOR INSPIRATION
Here are some of my favorite combos to mix into this cookie base.
3/4 c. Pistachios, finely chopped and 1/4 c. Red Rose Petals
3/4 c. Toasted Pecans, chopped and 1 tsp Cinnamon (you can also add 1/2 tsp of cinnamon to the powdered sugar to go all out!)
3/4 c. finely chopped 70% chocolate and 1 TBS orange zest
1 TBS Lemon Zest and 1 tsp Almond Extract