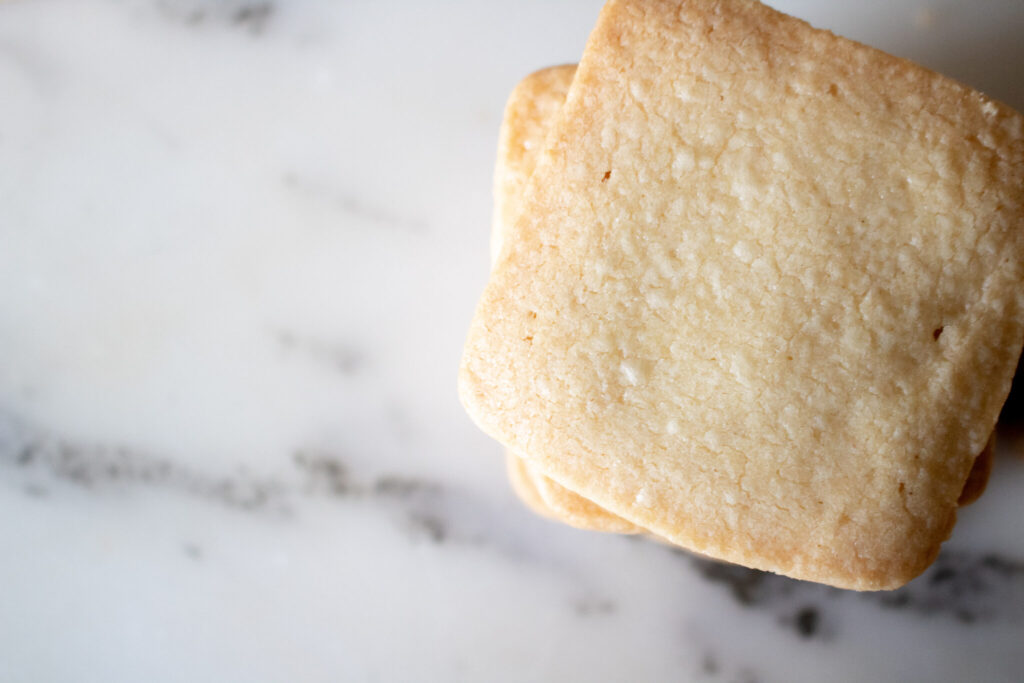 If there is one single cookie you should have memorized, it should be a shortbread cookie. And it's the one single cookie you NEED in your regular rotation. Classic, simple, adaptable in a million ways, a true crowd pleaser. Shortbread Cookies are always in the running for my favorite cookie, trying to kick Chocolate Chip to the side. This cookie recipe is absolute perfection as-is, but loves to be the base for any flavor variation you can think of. Sometimes I even use it as a crust for pies or bars. Traditional shortbread cookies don't use any egg, but I love the addition here for both texture and flavor.
Best of all: I am sharing my trick for cut out/slice cookies. No more trying to pound out a thick disc of rock hard cookie dough. Hope you enjoy my bakery hack!
Classic Shortbread Cookies
Yields: 18-24 – 2″ cookies
*Baker's Note: Not to be a broken record, but all of my ingredients are non-gmo, mostly organic (quality is better than a label, my friends!), and from sources I have researched. At my bakery, I was constantly asked why my cookies or cakes are so amazing and my answer is always quality of ingredients. It is no joke, and I guarantee it will be a game changer with the simplest and trickiest recipes.
Ingredients
1 c. (8 oz, two sticks) Unsalted Butter, room temperature
3/4 c. Sugar, granulated
1/4 tsp. Salt
1 1/2 tsp Vanilla Extract or scrape half a vanilla bean (use the BEST, it really shines here! you can purchase my vanilla extract here)
1 large Egg Yolk
2 c. All Purpose Flour
Grey Sea Salt – for garnish, if desired
1/2 c. mix-ins, if desired – nuts or chocolate chips, dried fruits, etc.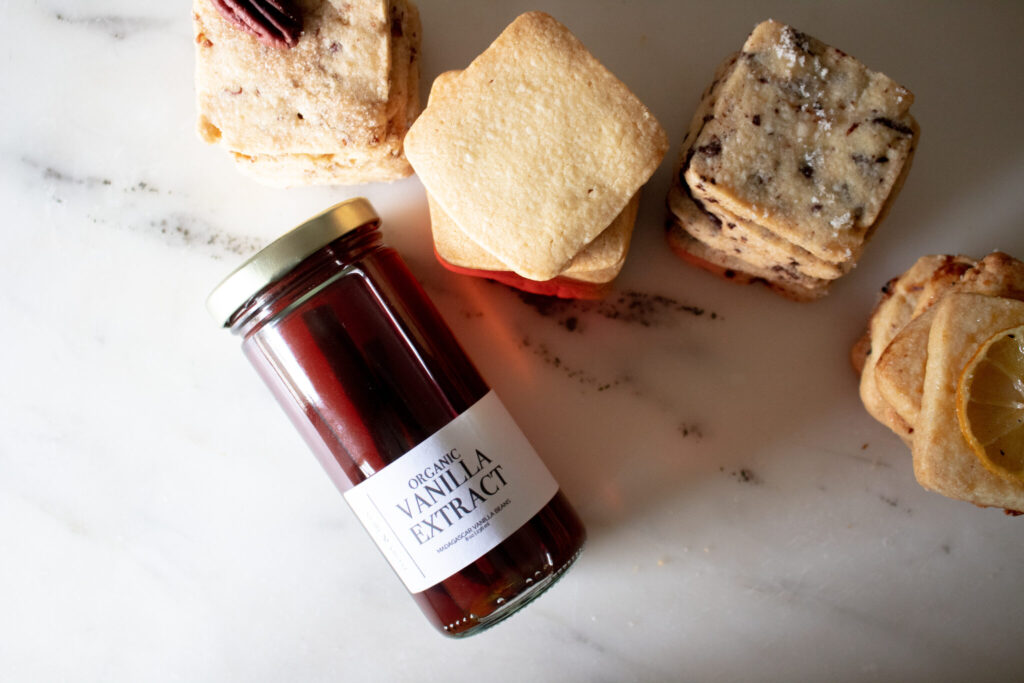 Process
1. In the bowl of stand mixer, or mixing bowl with hand mixer, cream Butter, Sugar, Salt and Vanilla Extract on medium-high speed for 5-7 minutes until light, pale and volume has been incorporated. The sugar should be noticeably less granular when it is done creaming. Stop to scrap the sides and bottom of the bowl several times to ensure a perfectly blended mixture.
2. Add in Egg Yolk and mix on medium-high for another 2-3 minutes until combined and smooth.
4. Add Flour and any mixi-ins to bowl. Blend on medium speed until just combined.
HERE'S MY BAKERY HACK WHICH SAVES TONS OF TIME AND MUSCLES! You can use this method for any roll out/slice cookie and it is a serious game changer…
5. Scrape all of the dough out onto the center of a piece of parchment paper. Lightly press down and place another piece of parchment paper on top. With a rolling pin, roll the dough out to 1/4″ thickness. Place on cookie sheet and put into freezer for 15-20 minutes.
6. Preheat oven to 300 degrees.
7. Grab cookie dough from freezer and remove top piece of parchment. Using a cookie cutter, or knife, cut out cookies into desired shape and place, 1″ apart, on a new parchment-lined cookie sheet. Start another cookie sheet, if needed.
7. Sprinkle on sea salt, if desired (or any other topping you like). Place cookie sheet(s) back in freezer for about 10 minutes before baking.
13. Bake cookies for about 15-18 minutes or lightly golden brown. You don't want too much browning and the centers should be just set.
14. Let cool completely.
OPTIONS: once cooled, dip halfway in chocolate, or sandwich with buttercream, ganache or preserves.
FLAVOR INSPIRATION
Here are some of my favorite combos to mix into this shortbread base.
1/2 c. Pistachio and 1/4 c. dried Cranberry
1/2 c. Chopped Chocolate and 1/4 tsp Cardamom, sprinkled with sea salt before baking
1/2 c. Toasted Pecan and 1/2 tsp Cinnamon, sprinkled with cinnamon and sugar before baking.
1 TBS Lemon Zest and 1 tsp Lavender Buds