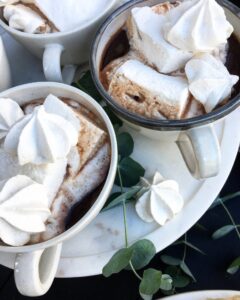 When the weather starts cooling, a really good mug of deep, dark, rich, hot chocolate is a must. With a good dose of chocolate pieces in the mix, they slowly melt while you are sipping creating a beautiful truffle-like hot chocolate you just can't resist. I mean, what better way to get you into the winter spirit. I like to have a pretty jar sitting in my pantry at all times. When the mood strikes, there's so little work involved! It's a beautiful hostess gift, too! The best part of this recipe is that you can adapt the chocolates to your favorite darkness (or lightness!) level. Prefer milk? Substitute half the bittersweet with a good quality milk chocolate. Or dunk a piece of white chocolate in at the end to add another creamy flavor! Of course, a good fresh marshmallow or homemade meringues wouldn't hurt either! Or might a suggest a big spoonful of chocolate hazelnut spread?! Or how about a big splash of whiskey? Or a glug of Bailey's? Or Frangelico would be amazing. We're going in another direction now, so I'll stop. But seriously, the options are endless.
Hot Chocolate Mix
Recipe: Candice Hunsinger 
Ingredients
½ cup granulated cane sugar
3 oz dark chocolate (the darkest you can find – Guittard Chocolate Chips is what I had on hand), roughly chopped
½ dark cocoa powder (use the best you can get your hands on – I used Cacao Barry Extra Brute, my favorite!)
¼ tsp vanilla extract (or half of a bean split, with the seeds scraped out)
1/8 tsp fine sea salt (himalayan pink salt is ideal, if you have it)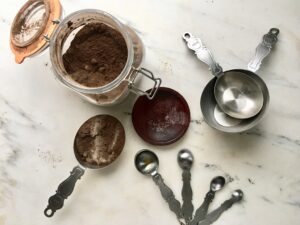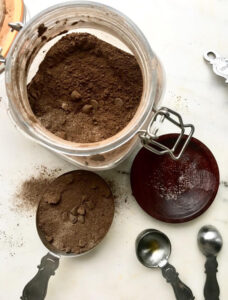 Mix all ingredients until thoroughly combined. Or if you're like me, throw it all in your pantry jar and shake like mad. *If you are using a vanilla bean rather than extract, put the half bean AND seeds in when mixing around. I store the half bean in the jar also, which continues to release pure vanilla essence (it's the real secret of this recipe!).
Makes approx. 1 ½ cups of mix – enough for 8-10 cups. Store in a glass jar (or package in small jars to gift!). If I am stocking up my pantry or gifting, I'll multiply the recipe by 3 or 4 to hold me over through the winter season. Here's how to make the perfect mug of hot chocolate…
Drinking Chocolate:
Heat ¾ c. milk and ¼ c. half and half in a saucepan over low heat until bubbled on the edges. Add 3 TBS hot cocoa mix and whisk thoroughly until well incorporated.