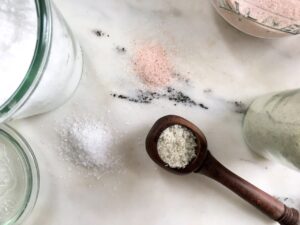 Salt is truly the most important ingredient in your kitchen. Without it, nothing tastes. Like, literally, it doesn't taste like much of anything. It's all muddled and mucky and doesn't have the best flavor it can have. I am very light handed with salt in my every day cooking, but I also respect it's extreme importance. Even in baking sweets, salt will bring out every little flavor you want to taste!
These are the 3 most important salts (and why I love them) that everyone should have in their kitchen! With these, you can make anything and everything and the possibilities for enhanced flavor are endless! I buy all of my salt online in bulk through Salt Works both for home and the bakery – they have so many varieties, it's like a constant salt adventure! The titles are linked to each type, so shop away!
Himalayan Pink Salt – my go-to, every day use salt. With 84 trace minerals and elements, it's basically the "healthiest" salt you can find! What I love about it is that it isn't as "salty" for being salt. The grind is a bit coarser (even a fine grain) and less processed, so there is less sodium when you measure teaspoon to teaspoon with something like a white table salt. I use this salt as an ingredient in any recipe – sweet or savory.
Sea Salt – my savory finishing salt. For garnishing biscuits, steak or chicken, popcorn, pretty much anything that needs that little flake of crunchy salt on top. I love a good Mediterranean variety (duh) and really like to read up on where it comes from so I can feel good about it's processing and make sure there are no unnecessary additives, which sorry to scare you, but just about everything in the chain grocery stores have. What's great about this simple sea salt is that you can easily infuse it. Adam likes to smoke it with jalapenos from our garden – he uses it on his eggs in the morning. I like to make citrus salt (just zest one orange and one lemon into 2 cups of salt and pop it in a jar in your pantry!) to use on chicken. When shopping for sea salt, I like to have a slightly larger grain. Not only is this good for texture but it can double as a scrub for cleaning your cast iron pans – bonus!
French Grey Salt – if you can splurge for Fleur de Sel, you certainly won't regret it (the smooth, fluffy flavor is amazing), it's basically the king of all salts. Otherwise, the Tamisé grain French Grey Salt is just as great of a stand in. Mineral-rich and light and with tons of moisture, I use Grey Salt to garnish or accent any of my sweets. On top of caramels or brownies, a sprinkle on chocolate chip cookies before they bake. Almost every baked good good use a shower of Grey Salt before heading into the oven and possibly on it's way out!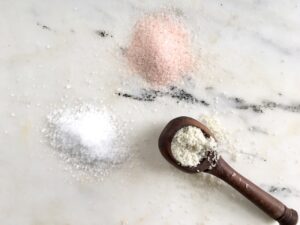 P.S. I love my little wooden coffee scoop from Fine Hammer that I use so often in the kitchen!