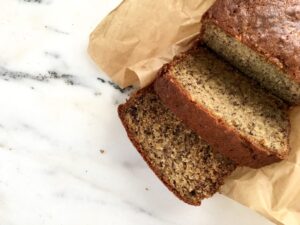 I don't like bananas. Which sounds a little crazy considering I'm sharing my perfect banana bread recipe. I don't like bananas… on their own. BUT, slices on ice cream with hot fudge? That's better. Banana bread? Much better. A classic, but I've always found it to have a dated, flat flavor. Here, the flavors are all enhanced with a bit of extra salt and the best ingredients. This tastes best the day after baking and even better after being frozen and defrosted.
Banana Bread
9″ x 5″ loaf pan, Serves 6-8 (or use an 8″ x 3″ cake pan if you don't have a loaf pan)

Ingredients
*Make sure ALL of your ingredients are at room temperature – bring them out the night before, or a minimum of 6 hours.
4 oz. (1 stick) butter, room temperature
1 c. brown sugar
1 tsp vanilla extract
1 tsp salt
2 large eggs
1/4 c. greek yogurt (or sour cream)
4 large bananas, super ripe (you want a lot of brown spots!)
1 1/3 c. all purpose flour
1 tsp baking soda
1 c. chocolate chips or walnuts, or both, or whatever your favorite mix-ins are (optional)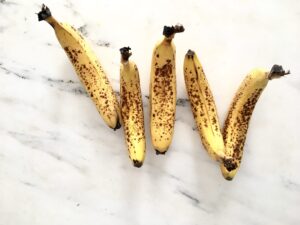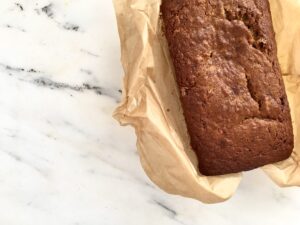 PROCESS
Preheat Oven to 350 degrees.
Butter pan, and line with parchment paper.
In the bowl of your stand mixer, or mixing bowl with hand mixer, combine butter, brown sugar, vanilla extract and salt. Mix on medium-high 5-7 minutes until smooth.
On low speed, add eggs, one at a time. After the last egg is in, turn speed to medium-high and mix for 3-5 minutes. It will look broken, but that's okay. Scrape down the sides and bottom.
Add the greek yogurt and mix until smooth, about 1-2 minutes, scraping down the sides, if needed.
Add bananas and mix on medium-high speed until bananas are mixed in thoroughly.
Add flour and baking soda, and any mix-ins, and mix on medium-low until there are no traces of flour. Be sure to scrape the sides and bottom of the bowl and mix again to ensure full incorporation.
Pour batter into pan and smooth until top is level.
Bake in center of oven at 350 degrees for 60-70 min or until set (a toothpick comes out clean, and it springs back to the touch).
Take out of oven, and let cool at room temperature for at least 3 hours before cutting!
If freezing, triple wrap in plastic wrap of foil.