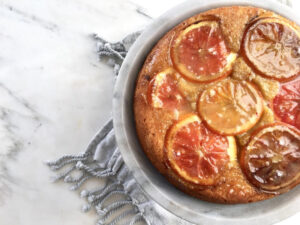 I am a total sucker for anything citrus. If I see citrus on the menu – sweet or savory – I can't even be bothered to look at anything else. So when winter rolls around and citrus is everywhere, I am totally in my element. Maybe it's because winter is so dry and full of heavy foods that it has me craving the bright tart flavors, or maybe it's just because subconsciously your body needs to balance out. Either way, I'll take it. Adam hates tart (or sour, as he calls it) foods, so I have to find ways to soften the edge for him a bit. This breakfast cake does just that. The buttermilk, the olive oil, the citrus – it takes all of those delicious flavors and melds into this beautifully balanced flavor – not too sweet, not too bland, just perfect. This olive oil cake is amazingly fluffy, but still has a nice crumb to it. And super easy and fast to make – a perfect Saturday morning snack, or a pretty cake to make when you have company over! If you have all of the ingredients on hand, it takes about five minutes to mix together in one bowl! And if you and Adam have the same taste buds, this base cake is a perfect starter for your favorite flavors. Skip the citrus and add 1 cup of blueberries, or raspberries, or cranberries, or pistachios or almonds, or a combo of nuts and chocolate. You can't be controlled, and I get that!
Olive Oil + Citrus Breakfast Cake
Yields: 1 – 9″ cake, Serves 8
*Baker's Note: Not to be a broken record, but all of my ingredients are non-gmo, mostly organic (quality is better than a label, my friends!), and from sources I have researched. At my bakery, I am constantly asked why my cookies or cakes are so amazing and my answer is always quality of ingredients. It is no joke, and I guarantee it will be a game changer with the simplest and trickiest recipes.

Ingredients
1/2 c. Olive Oil (I love my Village Batch Olive Oil!)
1/2 c. Buttermilk (or greek yogurt – whichever you have on hand) (or make your own buttermilk – in a measuring cup, add 1/4 tsp vinegar or lemon juice and fill with whole milk until you have 1/2 c.)
1 large Egg
3/4 c. Granulated Sugar
2 tsp. Citrus Zest (You will need two fruits total for this recipe. I used a combo of blood orange and grapefruit, but use your favorites or what you have!)
Slice half of each citrus for garnish (about 7-8 slices)
Juice from half of each Citrus (or the juice from a whole fruit if you chose only one type)
2 c. All Purpose Flour
2 tsp. Baking Powder
1 tsp Salt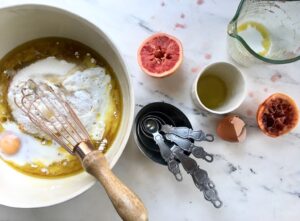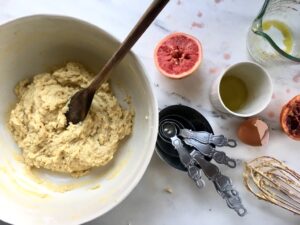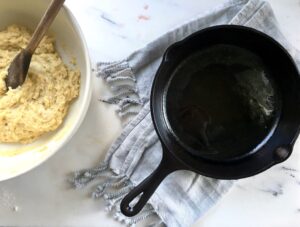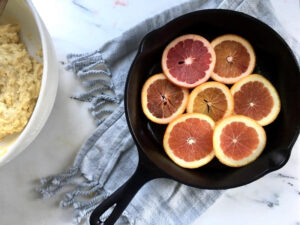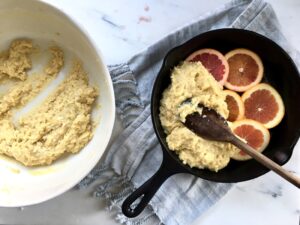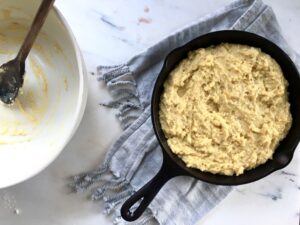 Process
1. Preheat oven to 325 degrees and heavily oil a 9″ pan (my beloved Lodge cast iron pan) or dish for baking
2. Zest citrus, then cut your slices for the garnish
3. Juice the rest of your citrus (about 2 halves) and save the rinds
4. In a large bowl, combine all ingredients (except citrus slices) until you no longer see flecks of flour
5. In your oiled baking dish (I used a cast iron pan because I am obsessed with my cast iron), artfully arrange your citrus slices
6. Pour your cake batter over the citrus slices and level it out from edge to edge
7. Bake for 25-35 minutes or until just barely set and golden brown
8. While the cake is baking, make the buttermilk glaze
9. Let cake cool for 10 minutes in the pan, then run a knife along the sides of the pan before flipping out onto your serving platter
10. Cool cake for another 10 minutes or so before pouring the glaze over. You still want the cake to be warm when you pour the glaze over so it soaks up all of that glorious sweetness
11. Time to eat! Store in an airtight container if you have any leftovers. If.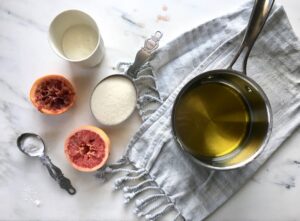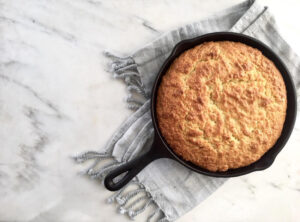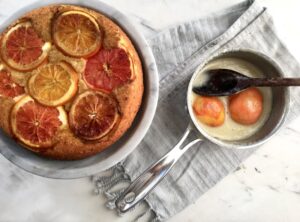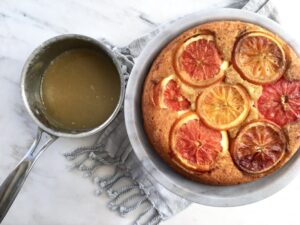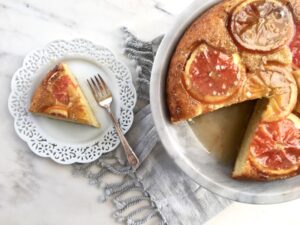 Buttermilk Glaze
1/2 c. Granulated Sugar
3/4 tsp. Baking Soda
1/4 c. Buttermilk
4 TBS Unsalted Butter
Used Citrus Rinds
1/2 tsp. Vanilla Extract
Process
1. Combine the sugar, baking soda, buttermilk and butter in a medium saucepan (don't be like me and use your smallest saucepan so it boils over and you spend half an hour cleaning the stovetop)
2. On medium-low, boil for 4 minutes
3. Turn off heat and add citrus rinds and vanilla extract
4. Let cool for 5-8 minutes
5. Remove rinds