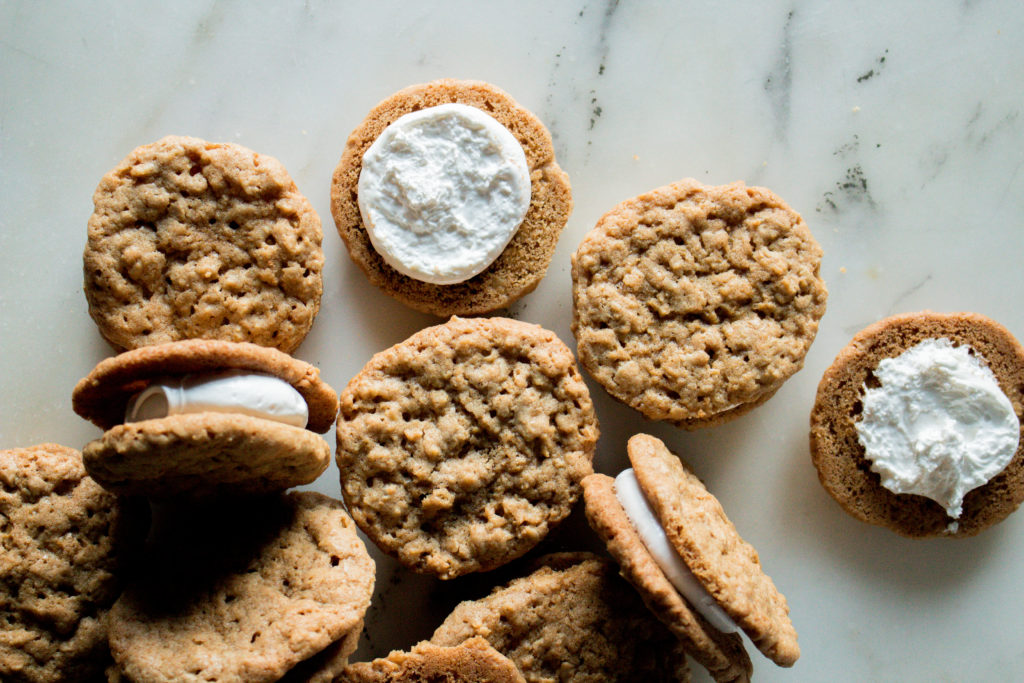 A nostalgia-based plastic-wrapped boxed cookie so repulsive, I just had to make it the right way. This cookie became a regular contender at my bakery and for good reason. Two parts – the cookie and the marshmallow cream. THIS IS NOT HARD, so don't freak out when you see the need for a candy thermometer. Make the cookies and then once they are out of the oven, make the marshmallow cream so you don't juggle the tasks or feel the need to fill the cookies while they are still warm (it happens to the best of us).
OATMEAL CREAM PIE RECIPE
By: Candice Hunsinger
Yields: Approx 15 – 3″ sandwich cookies or go giant for about 6-8 cookies (increase baking time about by about 5-8 minutes, keeping an eye on them!)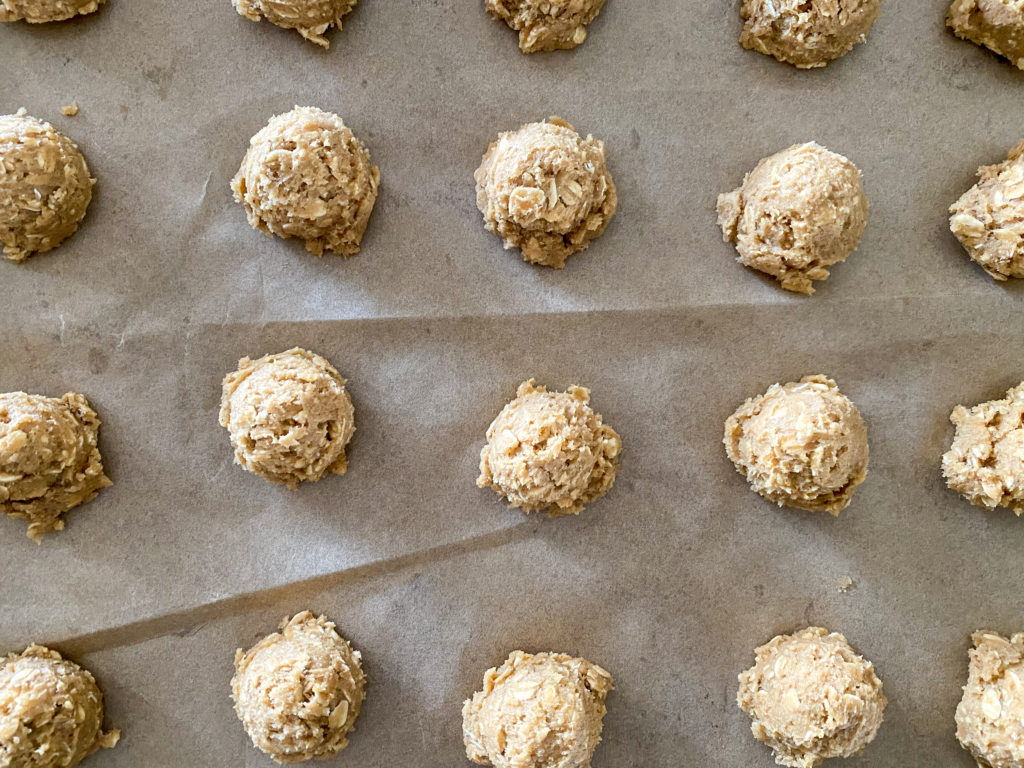 COOKIE INGREDIENTS
1/4 lb (1 stick/ 4 oz) Butter, room temp
1 cup Brown Sugar
1 tsp Vanilla Extract
1/2 tsp salt
1 tsp Cinnamon
1 large Egg
1 cups All Purpose Flour
1 cups Old Fashioned Oats
1/2 tsp Baking Soda
1/2 tsp Baking Powder
COOKIE DIRECTIONS
1. Preheat Oven to 325 degrees. Prep 2 cookie sheets with parchment paper.
2. In the bowl of stand mixer, add the Butter, Brown Sugar, Vanilla, Salt and Cinnamon. Cream on medium-high speed for about 5-7 minutes until light and fluffy.
3. Add Egg and mix in for 3 minutes until fully incorporated and lightened.
4. Add Flour, Oats, Soda and Powder and mix on medium-high speed for 1 minute (or less) until fully incorporated. With a spatula, fold up from the bottom center of the bowl. Mix again for a few seconds.
5. Using a portion scoop (I really recommend having one in a few sizes – it's the only way to achieve evenly sized cookies. I use a .50 ounce/1″ diameter scoop for these.), scoop out rounds of the cookie dough – 3 across and 5 down (15 cookies per tray). Be sure to allow some space as they do spread.
6. Bake for 10-15 minutes, rotating halfway, until golden brown but not too crisp. You want a little give in the centers when you pull the cookies out of the oven, they will firm up a bit as they cool. Let cool completely before sandwiching with marshmallow cream.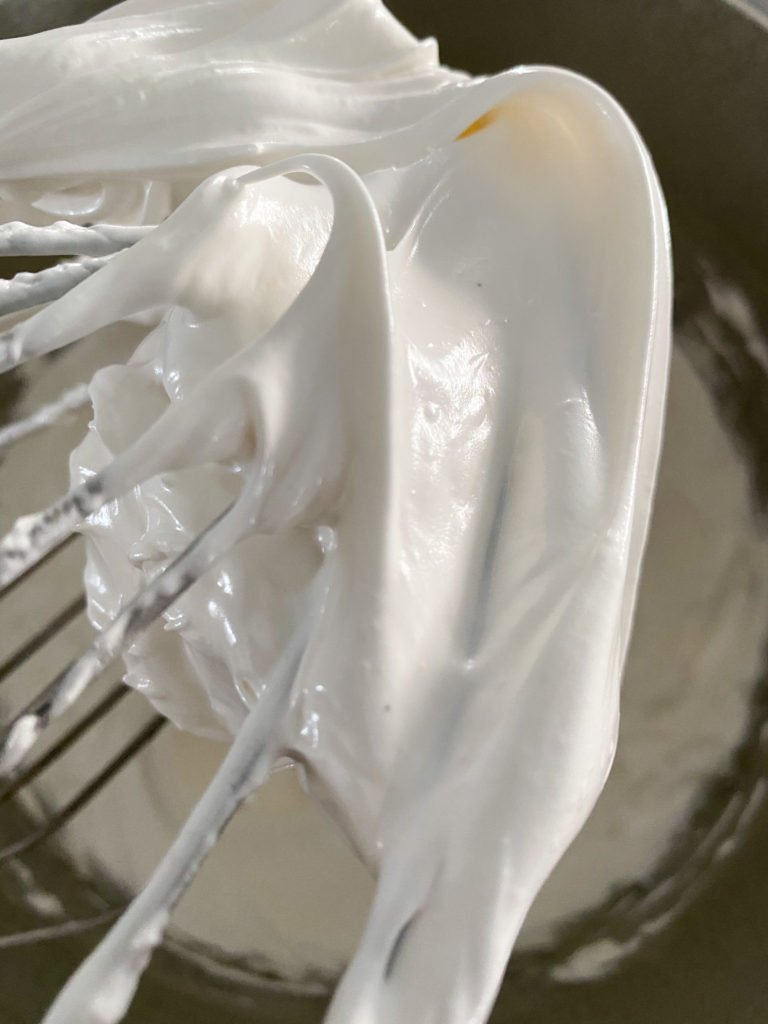 MARSHMALLOW CREAM INGREDIENTS
3 TBS Water
3/4 cup Light Corn Syrup (NOT high fructose, please!)
1/4 cup + 2 TBS Granulated Sugar
2 large Egg Whites
1/8 tsp Salt
1/4 tsp Cream of Tartar
1 TBS Granulated Sugar
1 TBS Vanilla Extract
MARSHMALLOW CREAM DIRECTIONS – Read in full before starting the process!
1. In a medium sized saucepan, add Water, Corn Syrup, 1/4 cup + 2 TBS Sugar. Heat on stove, over medium-high heat, until it reaches 250 degrees on a candy thermometer.
2. Meanwhile, in the bowl of a stand mixer with the whisk attachment, add Egg Whites, Salt, Cream of Tartar and 1 TBS Sugar. Whisk, on medium-high speed, until the mixture reaches stiff peaks (about 3-4 minutes). If your egg whites are ready before the syrup is, turn the mixer to low, but do not turn off.
3. When the syrup reaches 250 degrees, turn the mixer speed to medium and SLOWLY drizzle in the syrup. Drizzle in on the side between the whisk and the bowl, directly on top of the egg whites, trying to avoid splashing on the bowl (it will harden on the bowl rather than mixing in and creating the right texture marshmallow cream).
4. Once you have poured in all of the syrup, turn the mixer to high, stir in the vanilla extract and whisk until glossy and the cream is just about to start reducing in volume.
5. Using the same scoop as the cookies, scoop heaping mounds onto one cookie and sandwich with another cookie.
Keep stored in an airtight container for up to 5 days.