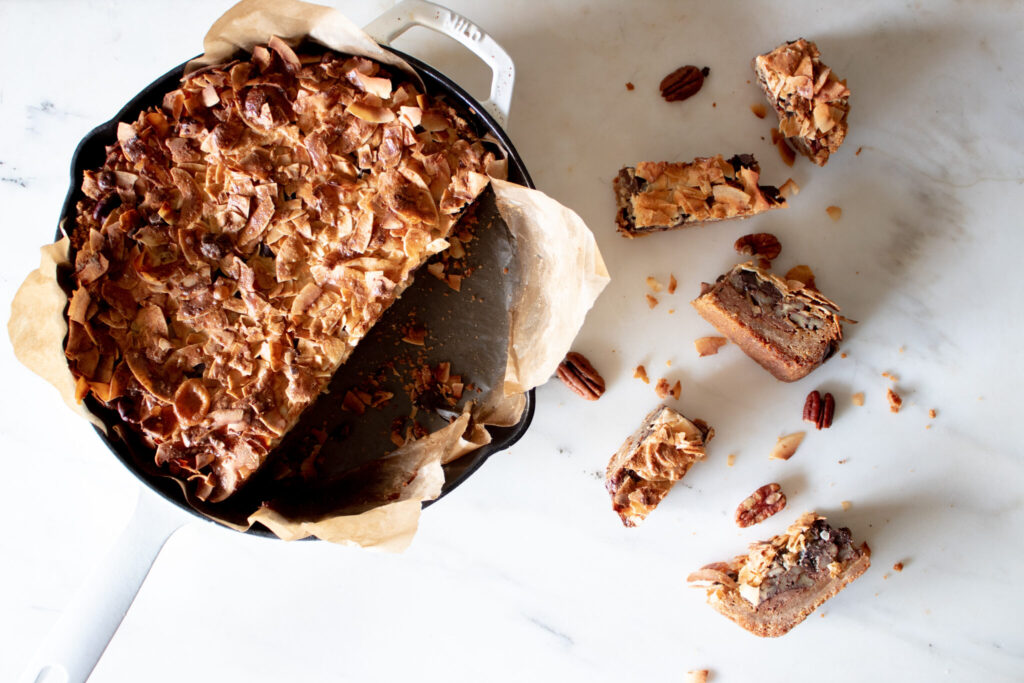 Magic Bars
(recipe provided for Milo)
Magic Bars, Dream Bars, Seven Layer, Six Layer, Hello Dolly, everyone has a name for these bake sale classics. In my bakery, I called the Hello HOLLY Bars after my sister. The magic part is that the sweetened condensed milk caramelizes giving a rich, nutty taste, much like actual caramel, and acts as the glue to hold the ingredients together. I've been known to convert coconut haters with this version because I use unsweetened coconut flakes, not the shredded sticky stuff. I also ditch the graham crust, instead, using a brown sugar cookie crust. It's a total game changer and I highly recommend giving it a try for a fresh take.
NOTE: this recipe is written to be used with a Milo 10" enameled skillet. If you use an un-enameled 10" cast-iron or other pan (cake pan, square baking dish, whatever you may have on hand), be sure to grease or line with parchment paper.
INGREDIENTS
Dough:
½ c (1 stick) unsalted butter, room temperature
½ c brown sugar (light or dark is fine)
¼ c granulated sugar
½ tsp salt
1 tsp vanilla extract
½ c all purpose flour
Filling:
1 ½ c pecans, whole (walnuts or cashews are also great)
1 ½ c dark chocolate chunks or chips
1 ½ c unsweetened flaked coconut
1 – 14 oz can sweetened condensed milk (homemade is not best used here)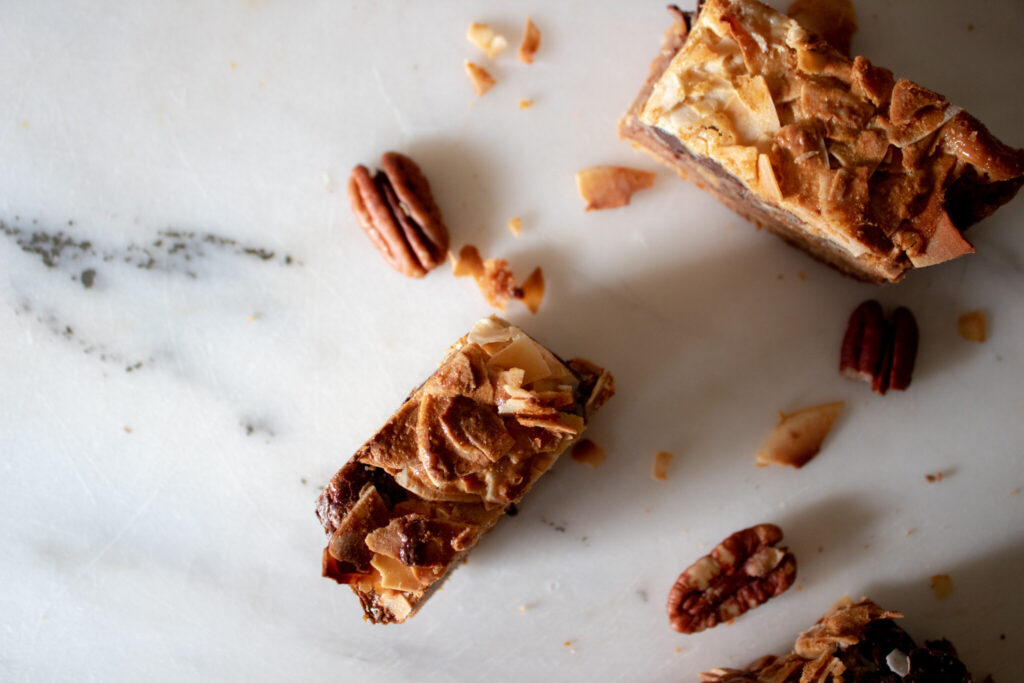 PROCESS
Preheat oven to 350 degrees. Line Milo skillet with parchment paper and set aside.
In the bowl of a stand mixer, or large mixing bowl with hand mixer, place all dough ingredients. Over medium-high speed mix until the dough starts to clump together. It may not combine completely, that's okay, just be sure to make sure the butter is creamed in completely, about 5 minutes.
With your hands, press the dough into the parchment lined skillet/pan flattening with your hands or a measuring cup. Feel free to press a bit along the sides if you like a lot of edges on your bars, but not too high like a pie crust.
Layer in the filling ingredients in the following order, being sure to spread evenly across the crust: Pecans, chocolate, coconut.
In a thin stream straight from the can, drizzle the sweetened condensed milk over the entire bar.
TIP: when pouring a liquid over bars, I like to start along the outer edges and work my way toward the middle, like a spiral, to ensure full coverage.
Place skillet in oven and bake for 30 minutes or until golden brown with no sign of liquid condensed milk.
Remove from oven and let cool completely on a trivet. This allows airflow under the pan, allowing it to cool evenly which is important when using a cast iron pan.
Using the corners of the parchment, pull the entire bar out and cut into desired size pieces. Warmed with a scoop of ice cream is a true delight!