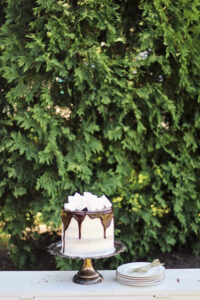 Chocolate layer cake is one of the greatest inventions of all time! If I ever have a sweet attack, all I can think about is a double chocolate cake – I'm not even crazy about cake or chocolate, go figure! I'm known for my chocolate cake at my bakery, Cacao Sweets & Treats. Super moist chocolate cake with vanilla frosting… total perfection! While I know Christmas is a week away and you're probably rolling your eyes like, "Umm, okay, Candice, you think I want to learn a new recipe AND decorate a cake NOW?!" And I'm like, "Yes! It's a show stopper and it's the perfect centerpiece for your holiday meal and it's really no big deal!" Here is my top secret chocolate cake recipe. Feel free to pretend it's yours!
I put a wintery twist on my favorite chocolate cake recipe by adding a sprinkling of hot cocoa mix and marshmallows. Super moist chocolate cake with vanilla frosting and marshmallows?! How could you resist?! It may seem like there are a trillion steps and it's an overwhelming process, but I promise it's no big deal. I made sure to detail out every step to help you along the way. So grab a friend, a bottle of wine, and have a cake making party!
Hot Cocoa Chocolate Layer Cake Recipe
As always, when it comes to baking, make sure that all of your ingredients are at room temperature for full incorporation. The better the ingredients, the better the result – so make sure to bring out the top shelf eggs, butter and cocoa powder!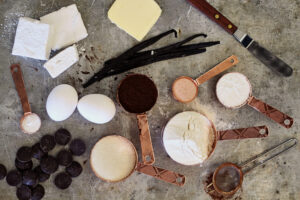 Cake Ingredients
1 cup (2 sticks) butter
2 1/4 c. granulated sugar
2 tsp salt
1 TBS vanilla extract
4 large eggs
1 cup dark cocoa powder
2 cups buttermilk (make your own! Just pour 1 TBS lemon juice or vinegar into your measuring cup, top off with milk, stir until combined, let sit for 5 minutes and magic happens!)
3 cups all-purpose flour
2 tsp baking soda
1 cup boiling water
DIRECTIONS
Preheat the oven to 350 degrees. Grease 3 (or 4) 8″ cake pans. Set the pans on trays and set aside.
In the bowl of a stand mixer (or hand held), combine the butter, sugar, salt and vanilla extract. Cream, at medium speed, for 3-5 minutes or until super light and fluffy.
On low speed, add your eggs, one at a time, until fully incorporated.
ix in cocoa powder on the lowest setting. Stop the mixer, give a good stir with a spatula, and mix on low speed again.
Pour in 1 1/2 cups flour and the baking soda. Turn the mixer to low speed and start drizzling in the buttermilk.
Once almost incorporated, add the remaining 1 1/2 cups flour. Turn the mixer to low speed and drizzle in the boiling water. Mix until smooth.
Evenly distribute the  batter into the pans and bake for 25 minutes. Rotate the pans and bake for an additional 10 minutes. Check the cakes with a skewer or small knife – there should be no residue left when the cakes are completely baked. You may need additional time if you only use 3 cake pans. Cool for at least 2 hours, in the pan, on a wire rack.
Vanilla Buttercream Frosting Ingredients
2 cups (4 sticks), VERY room temperature butter
12 cups powdered sugar
1 scant tsp salt
1 TBS vanilla extract
1/2-1 cup milk
DIRECTIONS
Place the butter, half of the powdered sugar, salt and vanilla extract in the bowl of your stand mixer. Add half of the milk (reserve the rest to use as needed).
Pulse mixer on low speed several times until the ingredients are mixed thoroughly.
Add the remaining powdered sugar and a little of the remaining milk, as necessary, and pulse again.
Once fully incorporated, turn the mixer to medium speed for 1 minute.
Turn the mixer up 1 more notch at a time until it hits high speed. Mix for 1-2 minutes until light and fluffy.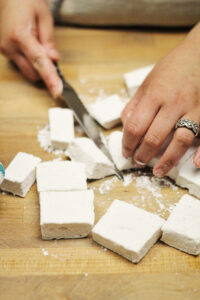 Garnishes
Hot Cocoa mix (1 cup sugar, ½ cocoa powder, pinch of salt – whisk!)
Marshmallows (about 10-12), cut 8 into bite size pieces. Leave the remaining marshmallows for the top of the cake to resemble a mountain – you may end up cutting some based on your styling. If you have a homemade recipe, let it shine! If not, try to avoid grocery store dry puffs and find a local artisan (or order from Cacao Sweets & Treats online!)
Chocolate Ganache (8 oz. chocolate chips, 6 oz. heavy cream – melted and stirred until combined)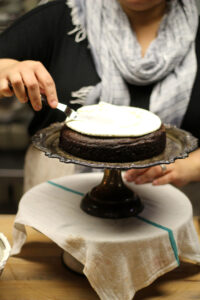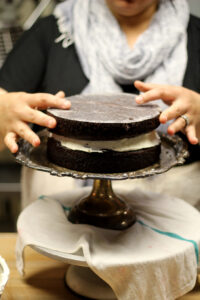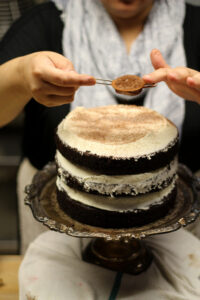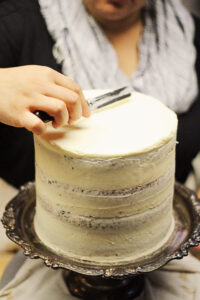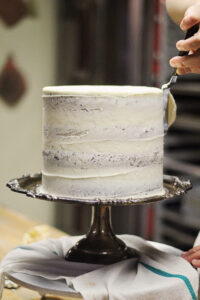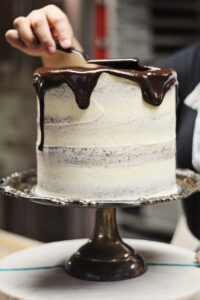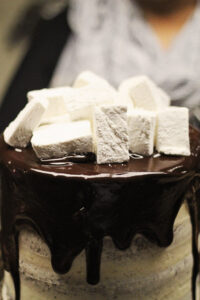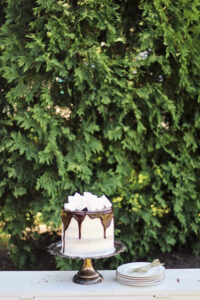 Assemble the cake (the artsy part!):
Remove the cakes from the pans.
Using a large serrated knife, trim your cakes so that they are as flat as possible. The flatter the cake, the easier to build a level cake.
Set 1 of the cakes on your tray or platter of choice.
Fill a piping bag, if handy, with enough buttercream that you are comfortable working with. If not using a piping bag, use a clean spatula.
Pipe or spread a 1/2″ layer of buttercream on the first cake layer. Smooth it out.
Sprinkle with a quarter of the hot cocoa mix, and top with a quarter of the marshmallows. Place a small dollop (about a tablespoon) in the middle of the cake – over the mix and marshmallows – so the next layer of cake will adhere.
Repeat with the second, third, and fourth cakes.
Chill the cake in the refrigerator (or freezer if you have space) for 30-60 minutes.
Pipe or smooth the exterior of the cake with the frosting, making sure to have a fairly thick layer.
With a clean small, metal cake spatula (or butter knife), run it along the cake starting from the bottom and working your way up, to thin out the frosting (you will have a good amount leftover) until you achieve the naked look. It takes a bit of practice, but this style if very forgiving.
Let chill in the refrigerator for 30 minutes.
Pour your chocolate ganache over the top and let it drizzle down the sides – it may need a little help with a spatula.
Top with the marshmallows and a dusting of the cocoa mix.
Refrigerate for 1 hour.
Bring the cake to room temperature for at least 30 minutes before serving.
*Storage: Because we are baking a butter based cake, make sure not to store it in the refrigerator, which causes drying.
**Photos courtesy of Melissa Becker.