The whole goal with my website is to share some of the things I love. Things that make my life easier. Or things that are special (but totally necessary, duh). Things that are better than others – aka, quality. My life motto is quality over quantity.
So here is one of my new favorite things: my JORD Wood Watch! Wait, a watch plug on a baker's website? YES! Hot tip, the timer on my oven is broken and I refuse to fix it until I get a new oven. But I refuse to get a new oven until we remodel the kitchen (we desperately need to remodel our kitchen, but I'm holding out for the best – you know… quality over quantity), so here we are. That's where my beautiful JORD watch comes in handy! For timing my bakes – a kitchen timer on my wrist!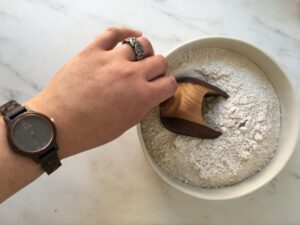 I'm huge into natural materials, so I have been eyeing these gorgeous wood watches for some time. I love the natural look and feel – no weird metal touching your skin nonsense (am I the only one who hates that feeling?!)! What I love even more is that Adam may or may not be getting one for his birthday! He's an electrician so he can't wear metal while working, so this is perfect for him (he has a wood wedding band too – we're kind of obsessed)! Check out the men's line for the perfect gift for your guy! There's still time to order in time for Christmas!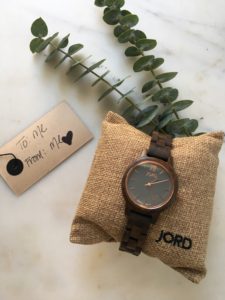 The best part of receiving my JORD watch in the mail was hands down opening up the gorgeous package – it was like Christmas morning. Their watches come in the most amazing wood box (and look at that drawer!!!!). No joke, this watch is NOT expensive at all, so you have no excuse not to buy it for yourself or a gift for a friend. It's definitely an upgraded every day watch. So when you can have something special that comes in under budget, don't pass it up!

*This post was sponsored by JORD Wood Watches.
Watch Gift Ideas