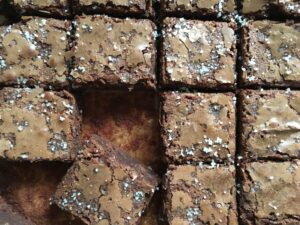 Why is it that when you want chocolate, you neeeeeddd chocolate? It's an actual thing, right? Well, so goes the case with this recipe. I love trying different brownie recipes (even though I have my tried and true recipe I use for the bakery), because it's the slightest difference that can make them completely different from the last batch. And the flavor combos are endless. Add flavors, add chocolate chips, add nuts, whatever your brownie kick is. I used a creaming method here (the French way) that you normally don't see in brownies. I like this for the lift it gives this fudge-style version. Because of the few ingredients and clean flavor of a brownie, I like to use fancy salt to really enhance them – like maldon or fleur de sel. Or substitute half of the sugar for brown sugar to make them slightly chewier. Brownies are hard to screw up if you make small, simple changes.
French Salted Brownies
8″ x 8″ square pan, Serves 12 (or use an 8″ x 3″ cake pan if you don't have a square pan)
Ingredients
*Make sure ALL of your ingredients are at room temperature – bring them out the night before, or a minimum of 6 hours.
6 oz. (1 1/2 sticks) butter, room temperature
6 oz. bittersweet chocolate (I used 72% dark callets)
3 eggs
3/4 c. sugar
3/4 tsp vanilla extract (or you can use almond, or lavender, or bourbon, espresso powder, any favorite flavor)
1/2 tsp salt
1/2 c. flour
1 c. mix-ins (nuts, dried fruit, chocolate chips, pretzels – anything you like!)
Extra good quality salt for sprinkling on top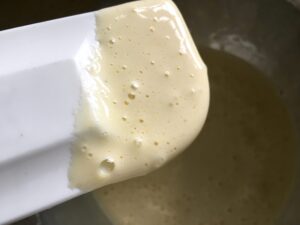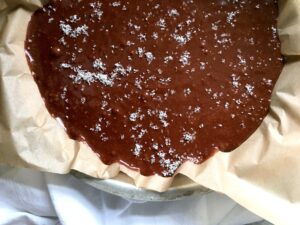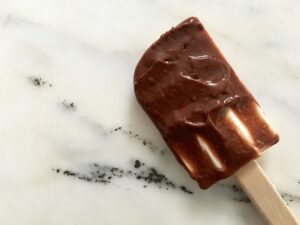 PROCESS
Preheat Oven to 300 degrees.
Butter pan, and line bottom with parchment paper.
In a double boiler (or in the microwave for 1.5 minutes), melt the chocolate and butter together until just melted – stir out any remaining lumps until it is a smooth mixture. Let cool 5 minutes.
While the chocolate is cooling, in the bowl of your stand mixer, or mixing bowl with hand mixer, combine eggs, sugar and vanilla extract Mix on medium-high 4-5 minutes until smooth, thick and pale yellow.
With the mixer on low, slowly drizzle cooled chocolate mixture into egg mixture. Mix on medium speed until smooth, stopping to scrape sides and bottom before mixing again until combined.
Add flour and any mix-ins, and mix on medium-low until there are no traces of flour. Be sure to scrape the sides and bottom of the bowl and mix again to ensure full incorporation.
Pour batter into pan and smooth until top is level.
Bake in center of oven at 300 degrees for 55-65 minutes until top is dry and crackling.
Take out of oven, sprinkle with salt and let cool at room temperature for at least 2 hours before cutting!
If freezing, triple wrap in plastic wrap of foil.
NOTE: Highly recommended with a scoop of vanilla ice cream and a sprinkle of sea salt!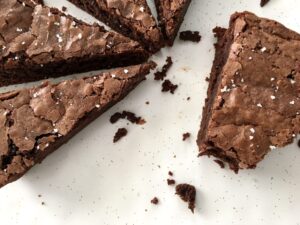 *adapted from Dorie Greenspan