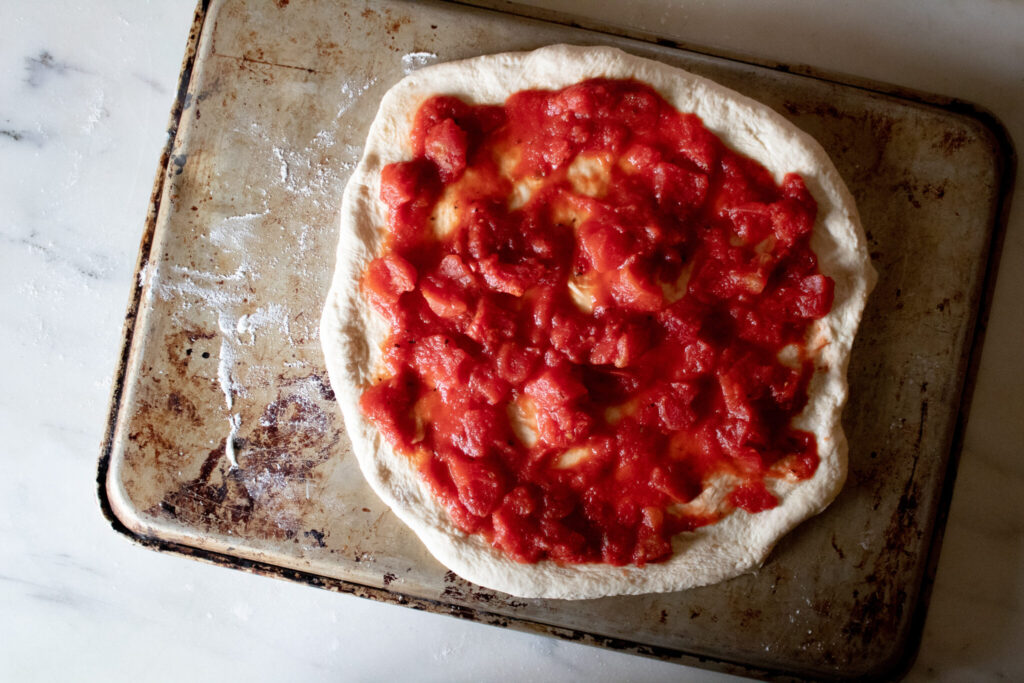 Pizza Dough is one of the easiest, yet most impressive doughs you can make! Throw a make-your-own pizza night, make a big batch and stash individual balls in the freezer to save for a rainy day or make homemade pizza on a week night – it's that easy! This dough is super versatile (and forgiving). Thin or thick crust, breadsticks, focaccia, calzones, this dough is your new best friend! The instructions below are a bit lengthy, giving you my favorite tips and options for thin or thick crust, but I promise its super simple!
PIZZA DOUGH
1 large deep dish, 2 large thin rounds, 4 individual thin
Ingredients
1 1/3 c. warm water (warm enough to feel comfortable, but not hot)
2 tsp active dry yeast
1 tsp granulated sugar
3½ c. all purpose flour
1 TBS olive oil
PROCESS
Be sure to read the instructions thoroughly before beginning.
Set aside Cookie Sheet or Jelly Roll Pan (quarter sheet tray), dusted in flour.
In the bowl of your stand mixer fitted with dough hook, or mixing bowl by hand, pour in warm water. Sprinkle yeast, then sugar over water and stir gently with your fingers. Wait 5 minutes and the yeast should appear to have risen and domed on the top of the water. (If it did not, your yeast is too old/stale or the water was not warm enough, or too hot, and you should start over.)
Add in flour and olive oil. Mix on low for 5-7 minutes until a smooth firm ball is formed. Dough will be wet, but do not add more flour.
Remove dough hook and cover top of mixing bowl with plastic wrap or a towel – tightly. Let sit in a warm place (on the counter or table where the sun beams hit, on top of the fridge or an oven that was recently turned off) for 30-45 minutes or until doubled in size.
OPTIONAL: If you like a chewy crust, punch down the dough and let rise again for 45 minutes – you will develop more chewiness that way. I almost always do this unless I want a super thin crisp crust.
Scrape dough out of bowl onto a lightly flour-dusted counter. Cut into the number of pizza doughs (or breadsticks or calzones) you would like to make.
Leaving the others covered while you work, take one dough ball and, by hand, shape dough into a round or rectangle – as even as possible. Place on a floured pan (If you don't have a pizza stone, though I highly recommend you get one!, it's best to cook your pizza on the bottom of a sheet pan – just flip it upside down! The air will circulate around your pizza, giving your crust more crispness) or pizza peel. Repeat with each portion, if more than one. If you are making a deep dish or pan style, simple stretch the dough out to the rough size of your pan and then place it in the pan and push it into the corners and edges evenly.
TIP: I like a slightly puffed edge, so I never roll over or pinch the outer edge. That's the secret of pizza makers – always work from the middle out.
Cover the pan loosely with a towel and let rest in a warm area for 15-20 minutes.
THIN CRUST: Put all of your toppings on, being sure not to overdo quantity. Remember that the beauty of pizza is simplicity!
THICK CRUST: Pre-bake the crust for about 12 minutes just until it starts to firm on the top. This will ensure it is baked through completely after the topping have been loaded on.


TIP:

I like to punch down the middle of the dough a bit after the pre-bake to form an edge and make room for more Chicago-style sauce and cheese!
Preheat Oven to 425 degrees (or prepare the outdoor grill). If you have a pizza stone, place it in before preheating the oven.
THIN CRUST: Bake for 15-20 min or until deep golden brown.
THICK CRUST: Bake for 30 minutes or until the cheese starts to develop deep brown spots.
Breadsticks, Calzones, Focaccia: Baking times will all vary, but start at at least 10 minutes, but keep an eye on them from there.
THICK CRUST: Let rest 10 minutes before cutting.
DIVE IN!