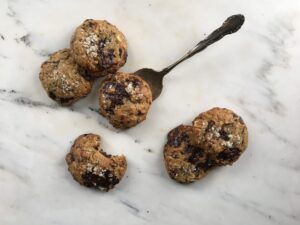 Aside from the true love of my life, Chocolate Chip Cookie, this is my very favorite cookie. I always tell everyone that it's the eccentric aunt of the classic chocolate chip. It's everything we love about a chocolate chip cookie, but so so much more. I can't comprehend why, but this cookie just doesn't sell well at my bakery. It makes me angry and sad all at the same time, because it was a life changing recipe for me and because I love it so much. So I decided that I am retiring it from bakery rotation and sharing it with you!
I have noticed that I am on a bit of a coffee kick here, but I beg of you not to omit it (even if you don't like coffee, you'll love it in this cookie, promise!) unless you are severely allergic (in which case, please don't tempt fate on my behalf.). This espresso really brings these cookies to life. It adds an earthy deep flavor that really compliments the chocolate and makes these cookies very adult. My other favorite part is using a really nice dark chocolate disc. I love the shape for optimum chocolate enhancement. The trick is to chop half of the amount for that extra melty effect within the dough but then those big full chunks for that punch of chocolate in some bites. I have a whole obsession about how to infuse chocolate into a cookie, but that's for another day.
These are an easy one bowl, mix-by-hand cookie (psst: I haven't unpacked my stand mixer yet!), so I make an easy adjustment by melting the butter first and cooling later (which I always do any way, because it works magic on creamed cookies! You can't chill a cookie quite long enough – it helps keep it from spreading too much creating a slightly crispy edge and a soft, gooey center.). And then that sprinkle of sea salt, just stop it! Best. Cookie. Ever.
Espresso Almond Oat Cookies
Yields: 18 cookies
*Baker's Note: Not to be a broken record, but all of my ingredients are non-gmo, mostly organic (quality is better than a label, my friends!), and from sources I have researched. At my bakery, I am constantly asked why my cookies or cakes are so amazing and my answer is always quality of ingredients. It is no joke, and I guarantee it will be a game changer with the simplest and trickiest recipes.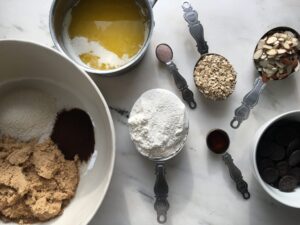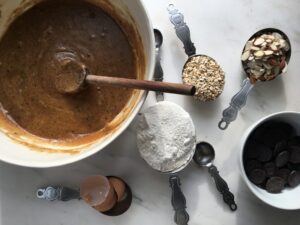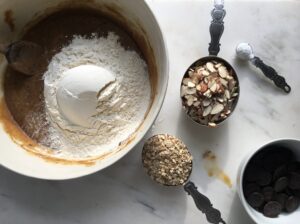 Ingredients
1 c. Unsalted Butter
1/2 c. Granulated Sugar
3/4 c. Brown Sugar
2 TBS Instant Espresso Powder (or just plain old coffee grounds if you don't have instant)
1 tsp. Salt
1 TBS Vanilla Extract
2 large Eggs
2 c. All Purpose Flour
1/2 c. Rolled Oats (not instant)
3/4 c. Sliced Almonds
2 1/2 c. Dark Chocolate Chunks, Chips, or Disks (my favorite) – chop half of them
1 tsp. Baking Soda
2 TBS Grey Sea Salt – for garnish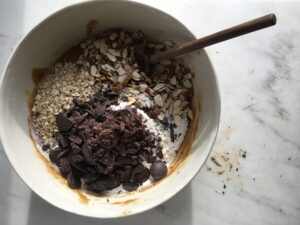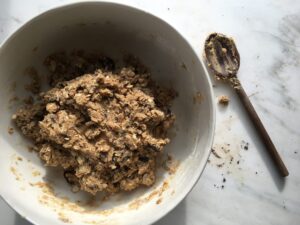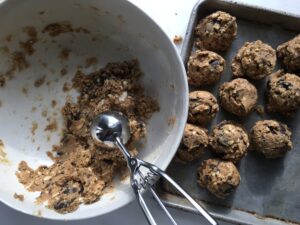 Process
1. Prep 1 cookie sheet with a piece of parchment paper and 1 unlined cookie sheet for transfer (you'll see below)
2. Melt butter over medium-low heat until just barely melted
3. Meanwhile, in large mixing bowl, combine sugars, espresso powder, salt, vanilla
4. Pour over butter and combine until smooth
5. Add eggs and stir about 2 minutes until a little fluffy, but don't stress your muscles too much!
6. Toss in the flour, oats, almonds, chocolate, and baking soda – in that order (when you put the flour in first, the other ingredients get a little coated in the flour when you start mixing and helps them distribute evenly)
7. Mix until well combined and no traces of flour are evident
8. Scoop into even shaped balls – an ice cream scoop works well, or you can just do it by eye and place on an unlined cookie sheet
9. Sprinkle with a heavy dose of grey salt
10. Place on a cookie sheet and freeze for at least 1-3 hours (or overnight)
11. Preheat oven to 325 degrees
12. Place cookies 3 across and 4 down on the parchment lined cookie sheet (or just bake the number you like and contain and freeze the rest for future desperation)
13. Bake cookies for about 15-18 minutes or lightly golden brown
14. Let cool slightly before consuming while the chocolate is still a little melty. OR… let cool completely and make into ice cream sandwiches (life changing)!!