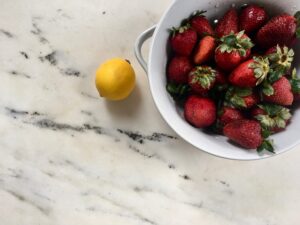 What's better than Summer and fresh berries? Absolutely nothing. Well, at least not during the Summer while you have fresh berries in front of you. But, what happens when they start getting a little sad? Or when there's a basket of seconds sitting on the farmer's table at the market that you just can't help but want to save? Fridge Preserves are here to save your dying berries! Not to say you can't use fresh berries any way, but you know what I mean. I love my easy recipe for preserves when I want something quick that I know will be eaten within a week or so. No need for fancy canning equipment or psycho sterilization (which, by the way, kind of saves your life regularly. But that's for another day). You make a batch to top your pancakes, smear on your toast, drizzle on your ice cream and store the rest to be eaten… if there's any left. I mostly love this recipe just because it's a no brainer and can be made in a pinch without any extra thought (like lazy Sunday morning brunch).
Easy Fridge Preserves
(choose your favorite berry!)
Yields: 1 large or 2 small Canning Jars
*Baker's Note: Not to be a broken record, but all of my ingredients are non-gmo, mostly organic (quality is better than a label, my friends!), and from sources I have researched. At my bakery, I am constantly asked why my cookies or cakes are so amazing and my answer is always quality of ingredients. It is no joke, and I guarantee it will be a game changer with the simplest and trickiest recipes.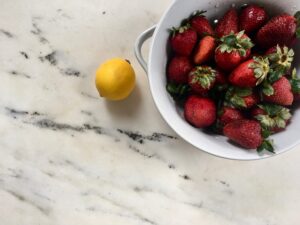 Ingredients
2 c. sugar
1 large lemon, zested and juiced
1 1/2 pints Berries – I am using strawberries because that's what I had on hand, but be sure to see my favorite flavor combos at the bottom!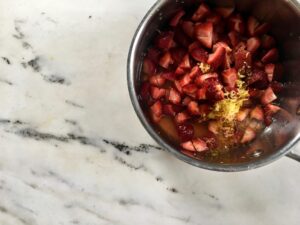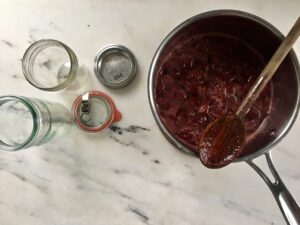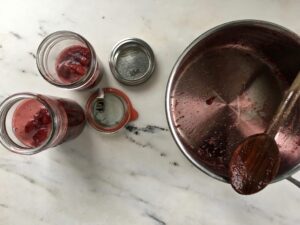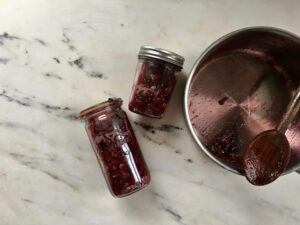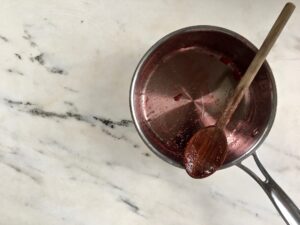 Process – this couldn't be any easier!
Roughly chop your berries – uneven pieces will reward you in the end
Zest and juice your lemon
Combine berries, lemon zest and juice and sugar into medium pot
Place pot on stove top over medium heat and give a gentle stir
Let simmer for about 20 minutes until the strawberries have cooked down
Meanwhile, gran a couple of jars and make sure they are nice and clean (lids too!)
Using the back of a wooden spoon, mash the berries to your desired consistency (I like a chunky preserve)
If you want to mix in any other fancy flavors (like lavender or vanilla), now is the time to do that
Remove pot from heat and carefully spoon or pour preserves into jars
Screw lids on and turn upside down to let cool on your counter. Pop into the fridge and enjoy within 2 weeks!
Extra Flavor Ideas
Be sure to use at least half of a lemon's juice no matter what – you want this acid to to balance the pH and to add natural pectin (which prevents the growth of bacteria! And be sure to have fun playing around with flavors – it's never ending and you can make it to your taste!
Blueberry + Grapefruit
Blueberry, Lavender + Vanilla
Strawberry + Orange
Raspberry + Rosewater
Raspberry + Lime
Blackberry, Orange + Thyme
Peach + Vanilla
Cherry + Almond