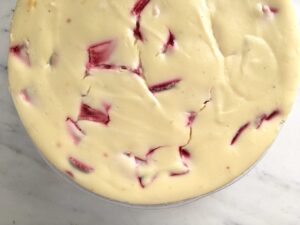 Here's the thing about cheesecake… It's. Not. Scary. While so many people are terrified of it, I think it's one of the easiest things to make. You just need to have patience (which is not exactly my forte, so what does that tell you?!). A few crucial steps and Cheesecake will be your new best friend. The other thing about cheesecake, is that there's a bit of fuss about the cracking and the water bath. I don't mess around with that. I don't even pre-bake the crust. I'm lazy that way. First, if a cheesecake cracks, embrace it – I think it adds character, like the wrinkles showing up around my eyes. Second, if it hurts your heart too much, cover it up with fruit or fresh flowers – no one will know the difference! So here's my no big deal way to make the best cheesecake.
Classic Cheesecake
9″ Springform, Serves 10-12
*You can also use a 3″ tall 10″x15″ pan to make bars rather than wedges
Graham Crust
Ingredients
1 1/2 cups graham cracker crumbs (about 24 or so graham crackers)
6 TBS butter, melted
1 TBS granulated sugar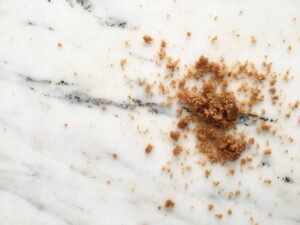 Cream Cheese Filling
Ingredients
*Make sure ALL of your ingredients are at room temperature – bring them out the night before, or a minimum of 6 hours. This is the most important part of making cheesecake!
32 oz. (4 packages) cream cheese (not the low fat stuff!)
1 1/3 c. granulated sugar
1 tsp vanilla extract
4 large eggs
1/3 c. greek yogurt, ricotta, mascarpone, sour cream – whatever you have
PROCESS
Preheat Oven to 250 degrees.
Crust
Combine all ingredients and mix.
Press into bottom of springform pan, packing down tightly with your palm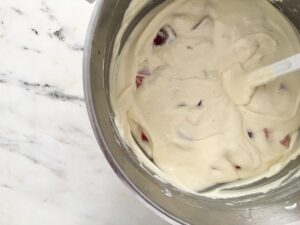 Filling
In the bowl of your stand mixer, or mixing bowl with hand mixer, combine cream cheese, sugar, and vanilla extract. Mix on low speed until there are no signs of loose sugar. Then turn speed onto medium-high and let mix for 5-7 minutes, stopping to scrape the sides and bottom occasionally, until super smooth and whipped.
On low speed, add eggs, one at a time. After the last egg is in, turn speed to medium-high and mix for 3-5 minutes.
Scrape down sides and bottom of bowl. Add your greek yogurt (or ricotta, or mascarpone, or sour cream), and mix on medium speed for 3 minutes.
Assemble
Pour filling over crust and smooth until level.
Bake at 250 degrees for 60 min or until set (just a little jiggly in the very middle).
Turn oven off and prop the door slightly open. Let cool in oven for 60 minutes.
Take out of oven, cover with foil and place directly into the refrigerator overnight.
Using a butter knife, carefully scrape between the sides of the pan and cheesecake.
Run a large knife under hot water for a few seconds and quickly dry for a smooth cut. Cut wedges of your cheesecake and pat yourself on the back while enjoying!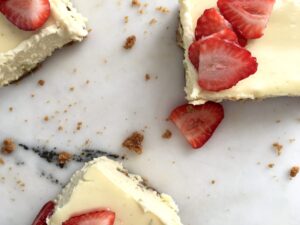 VARIATIONS
Here's the best thing about cheesecake… add whatever flavor you want! In the round cheesecake, I added 1 3/4 cups sliced strawberries and cooked for about 20 more minutes to account for the juice of the fruit. In the squares baked in a rectangular pan, I added the zest of 2 limes and then topped with macerated strawberries (that have been sugared and left to sit until juice forms)  for serving. Try cherries on the lime. Try lemon with white chocolate drizzle. Have fun with it!