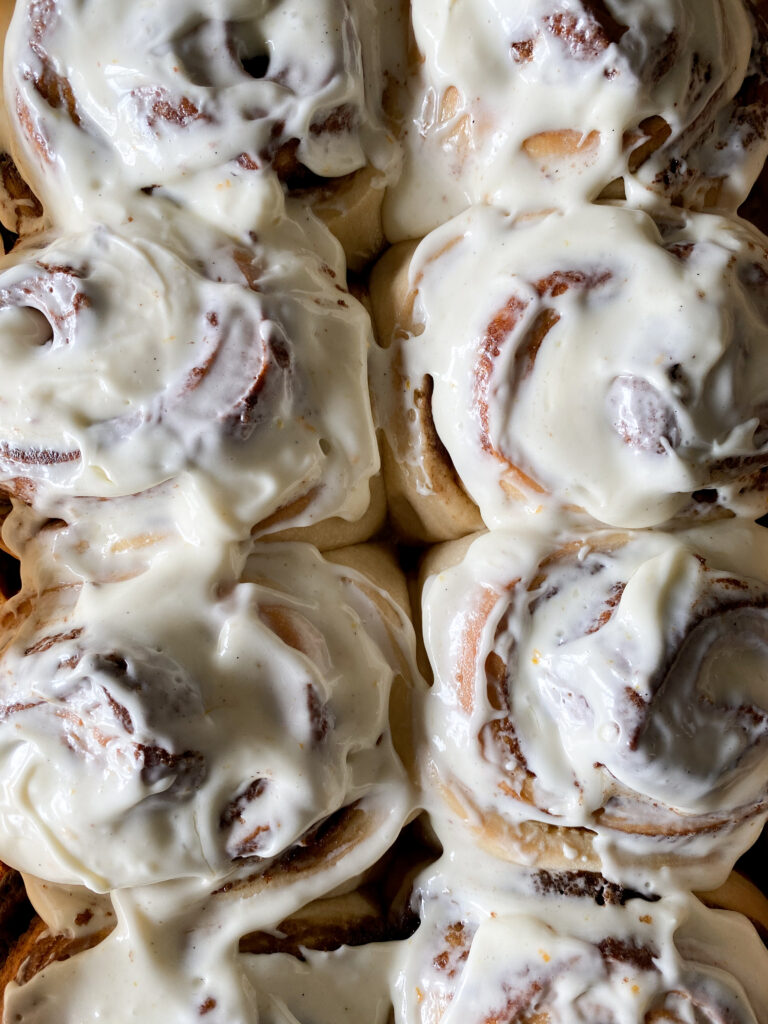 32 test batches that I "tortured" my friends and family with before landing on my ideal cinnamon roll. The real magic is the secret ingredient in the frosting (which would make these disappear within no time at my bakery on "Cinnie Saturday").
I share instructions, in the recipe details, on how to bake them day-of or prep for the next morning. As well as how to make them jumbo, standard or mini size.
Organic Cinnamon Rolls
8 jumbo, 12 standard or 24 minis
Ingredients *Make sure ALL of your ingredients are at room temperature – bring them out the night before, or a minimum of 6 hours prior to mixing.
DOUGH
1 c. warm milk (warm enough to feel comfortable to your finger – just above your body temp, around 98-100 degrees F)
1/2 c. granulated sugar
2 1/2 tsp active dry yeast
4 1/4 c. all purpose flour
1 3/4 tsp salt
1/3 c. (5 TBS) unsalted butter, diced
2 large eggs
FILLING
1/3 c. (5 TBS) unsalted butter, melted
1 c. brown sugar
2 1/2 TBS cinnamon
1/8 tsp cardamom, optional (but highly recommended for depth of flavor, this what usually sets bakery cinnamon rolls apart)
CREAM CHEESE FROSTING
(all ingredients should be VERY room temp)
1 stick (4 oz/8 TBS) unsalted butter
4 oz. cream cheese
1 cup powdered sugar
1 tsp vanilla extract
1/4 tsp salt
1 tsp orange zest (my secret ingredient)
PROCESS
Be sure to read the instructions through entirely before beginning.
Set aside parchment-lined Cookie Sheet/Sheet Pan with 3″ high sides (this stops the outer rolls from browning too quickly)
In the bowl of your stand mixer fitted with the dough hook, or mixing bowl by hand, combine the warm milk and sugar. Sprinkle the yeast over the milk and stir gently with your fingers. Wait 5 minutes and the yeast should appear to have risen on the top of the water. (If it did not, your yeast is bad or the milk was not warm enough, or too hot, and you should start over.)
Add in flour, salt, butter and eggs. Mix on low for 5-7 minutes until smooth.
Remove dough hook and cover top of mixing bowl with plastic wrap or a towel – tightly. Let sit in a warm place (on the counter or table where the sun beams hit, on top of the fridge or in oven with just the light turned on) for 1 1/2 hours or nearly doubled in size.
While the dough is rising, make the filling: melt the butter, then add the brown sugar and spices and mix to combine thoroughly. Set aside to cool.
Lightly flour your counter and scrape dough out of bowl onto the counter. With a rolling pin, roll the dough out into a rectangle, approximately 12″ wide x 18″ long. Be sure the entire rectangle of dough is the same thickness. The more even your rectangle is, the more consistent each roll will be.
Leaving the the top and bottom long edges with a 1″ border, smear the filling evenly onto the dough – use an offset spatula or spoon.
Working with the long end, firmly, but not too tight or too loosely, roll the dough into a cylinder, rolling the seam to the underside. Trim both ends to create a sharp edge – about 1″ off.
Cut dough into 8, 12 (or 24 mini – see note below) pieces and place, in an even grid, onto the prepped pan. Cover with plastic wrap and let rise in a warm place for approx. 1 1/2 to 2 hours OR place in the fridge overnight (if chilling overnight, let rise the next morning for 45-60 minutes before baking).
NOTE to make minis: If making minis, cut the dough in half, length-wise, and then roll the two logs and cut each into 12 pieces.
Preheat the oven to 350 degrees.
Bake the (standard size) rolls for 25-30 minutes, rotating the pan halfway through, or until golden brown and just barely set in the middle of each roll. (JUMBO: approx 45 minutes MINIS: approx 15 minutes)
While the rolls are baking, make the frosting.
In the bowl of your stand mixer fitted with the paddle, add all of the ingredients and gently pulse until the powdered sugar is incorporated. Turn the mixer up to high and whip for 3-5 minutes or until light and fluffy, super aerated.
When the rolls come out of the oven, spread HALF of the frosting over, allowing to sink into all of the nooks and crannies. This will also keep the rolls from crisping on the sides too much. Let cool for 5-8 minutes and spread the rest of the frosting over, if you like. I prefer my rolls less frosted with a side dish of frosting for dipping, if needed. But no need to be that prim.
BEST SERVED WARM! Cinnamon rolls are best within an hour or so of baking, but can be warmed back up in a foil pouch. Microwave not recommended – it makes them too tough and chewy (that goes for everything!).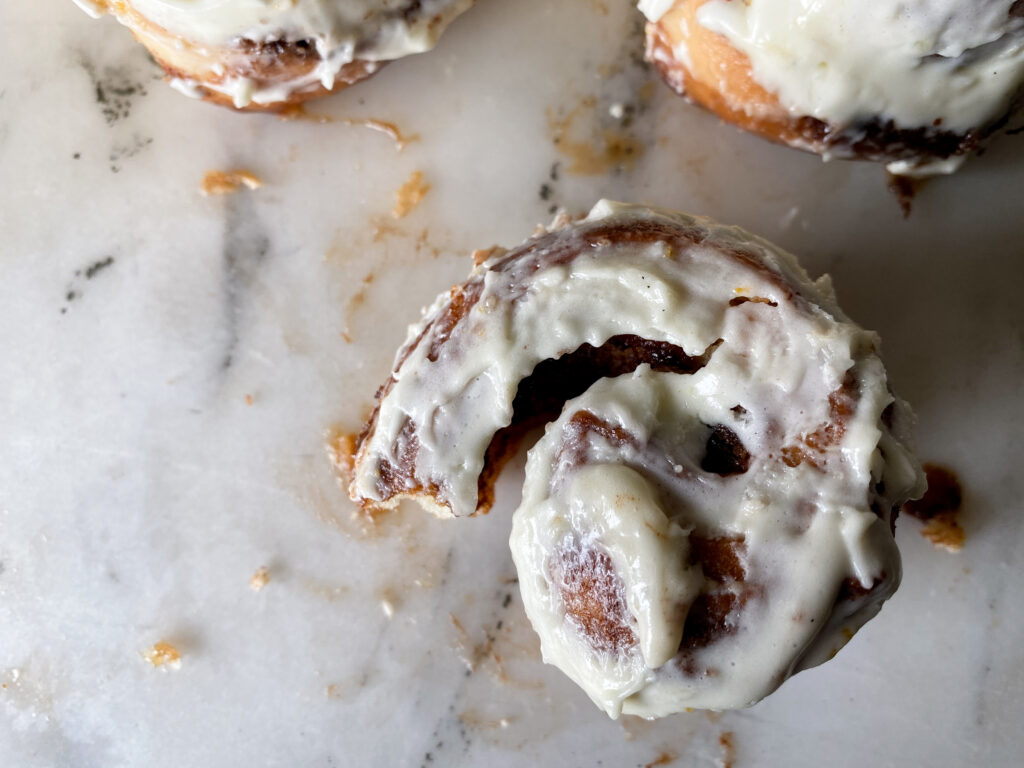 ALTERNATE FLAVORS: Cinnamon rolls were born to have fun fillings! It all started when my sister made our favorite (raspberry and chocolate) filled roll at my bakery for a Saturday special. So feel free to live it up! Here are some of my favorites that are layered on top of the brown sugar filling.
NOTE: Be sure to firmly press the fillings into the dough before rolling to ensure they stay evenly distributed and stay in place when rolling into a cylinder.
Lemon & Pistachio: Add the zest of one lemon to the filling mixture. After you spread the filling, sprinkle 1/2 cup finely chopped pistachios on top and press firmly into the dough. You can also add the juice of the lemon to the icing, if you like.
Raspberry & Chocolate: Once the filling has been spread over the dough, pour on 1 cup lightly smashed raspberries and 1 cup chocolate chips, chunks or chopped bars (this is a great way to use some random chocolate bar scraps you may have). Carefully roll up, being sure to keep the fillings in place.
Turkish Coffee & Hazelnut: Mix in 2 tsp Turkish Coffee (grounds are fine here) or Instant Coffee into the brown sugar mixture. Once it is spread, sprinkle over 1/2 cup finely chopped Hazelnuts. Add 1/2 tsp Coffee to the frosting, if you like, or simply dust it over for garnish.