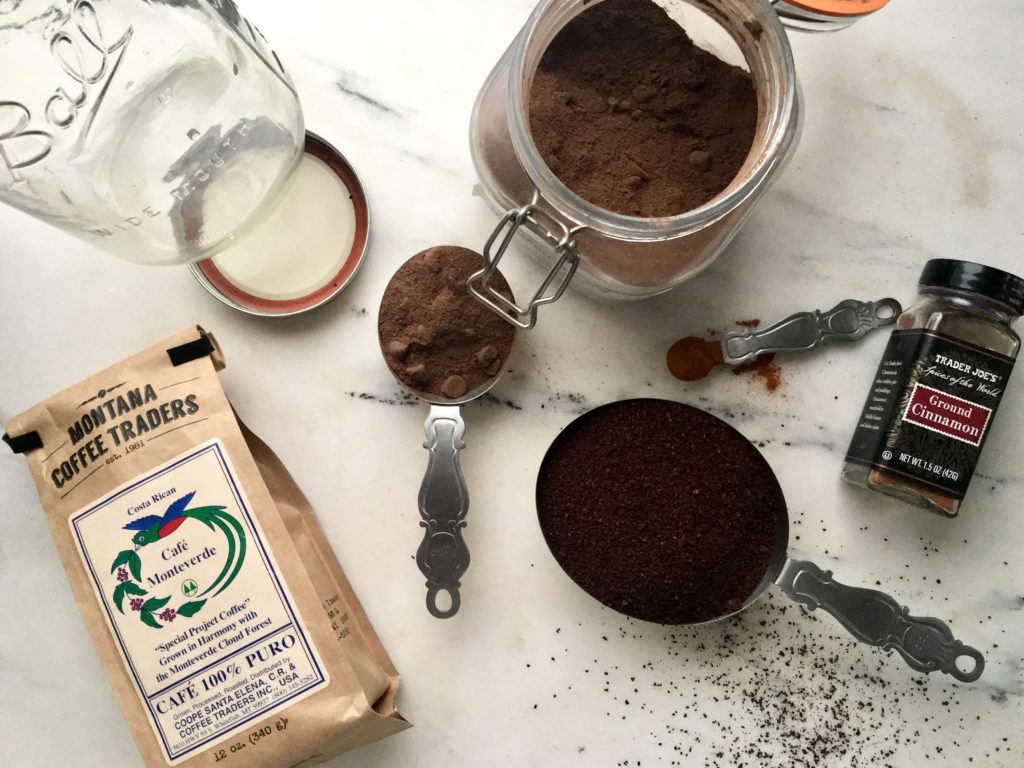 Adam and I are year round cold brew drinkers. When I wake up at 4 a.m. and only get one cup of coffee as I'm running out of the door to walk over to the bakery, you bet I'm going to get the biggest caffeine boost I can. Plus, I love iced drinks. And cold brew couldn't be any easier – it's mindless and takes no more than 2 minutes to prep… tops! Every December, I like to spruce up our cold brew to make it feel a bit more seasonal. So I'm taking that hot chocolate mix we made last week, and a touch of cinnamon to make it all decadent and warm and cozy. Feel free to put your own favorite spices in to make it your own (cardamom is one of my favorites!). Or, just keep it simple and stick with the coffee and water for the real deal!
INGREDIENTS
1 cups fresh coffee grounds (a drip grind is perfect) – whatever your favorite brand is!
1/4 cups hot chocolate mix (click for my recipe!)
1/4 teaspoon ground cinnamon
8 cups cold (it is cold brew after all) filtered water (I'm obsessed with my GLASS Soma carafe – no plastic zone in my kitchen)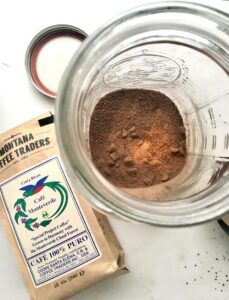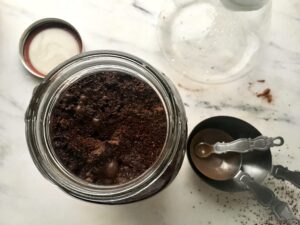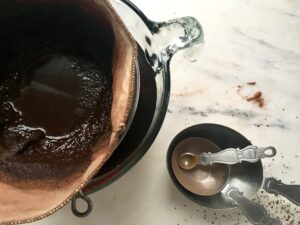 DIRECTIONS
Toss your coffee grounds into a glass jar (or pitcher). You definitely want to use glass so the coffee doesn't stain plastic (and plastic… ew).
Place the hot chocolate mix and cinnamon over the coffee grounds.
Fill with the cold filtered water, put the lid on and shake like crazy.
Let sit on your counter for 24-36 hours – the longer you let it sit, the more concentrated (caffeinated, really) it will be.
When your brewing is complete (but seriously, could that have been any easier?!), strain the coffee into a pitcher or storage device. I just strain mine into an 8-cup pyrex through my organic cotton Coffee Sock and then pour it right back into my mason jar (well, I have two jars, because one is always sitting on the counter ready for the next day).
Store in the fridge for up to 3 weeks (no way it will last that long, but, you know).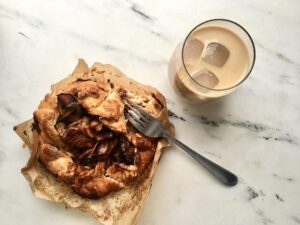 SIP
Take a cute glass (I drink mine out of my stemless wine glasses because I like to be fancy) and place a few big ice cubes in.
Pour the cold brew over the ice.
This part is up to you – just black? I'm impressed! cream? Now we're talking. Or extra Christmasy, Eggnog! Whatever it is, go for it!
*Baker's Note: Not to be a broken record, but all of my ingredients are non-gmo, mostly organic (quality is better than a label, my friends!), and from sources I have researched. At my bakery, I am constantly asked why my cookies or cakes are so amazing and my answer is always quality of ingredients. It is no joke, and I guarantee it will be a game changer with the simplest and trickiest recipes.