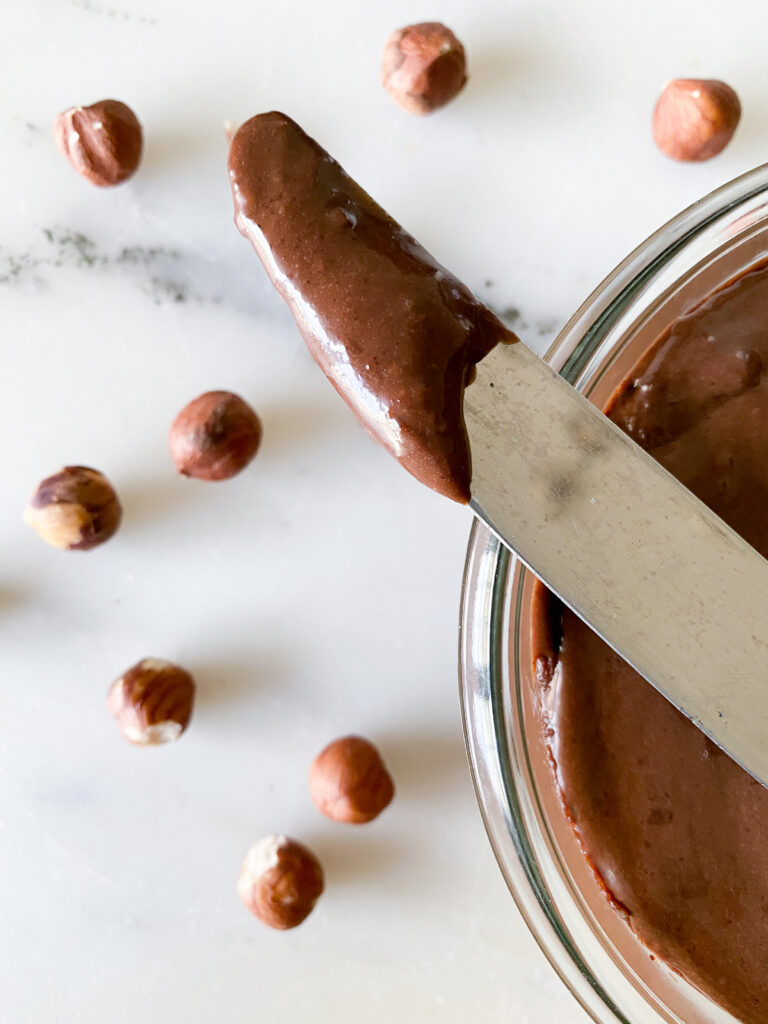 My passion for baking started with pantry staples. Things you normally buy in a jar or package that would shine so much brighter when made from scratch. Chocolate Hazelnut Spread (Nutella) was at the top of the list. You will need a heavy duty blender or food processor to achieve a smooth texture, but sometimes the texture is just as great.
Chocolate Hazelnut Spread
Yields: approximately 16 oz.
Ingredients
3/4 c. Hazelnuts, deeply roasted
1/2 c. Whole Milk
1/4 c. Heavy Cream
2 tsp Honey
1/2 tsp Vanilla Extract
1/8 tsp Salt
1/2 heaping c. Dark Chocolate, 70% or higher (not chips)
1/2 c. Milk Chocolate (not chips)
Process
Preheat oven to 400 degrees and spread Hazelnuts onto a rimmed cookie sheet.
Roast the hazelnuts for about 15 minutes or until deeply roasted, just skimming the edge of too dark.
Meanwhile, in a medium pot, simmer the Milk and Cream over medium heat until bubbles just start to break on the sides of the pot. Turn the heat off and leave the pot on the burner.
Add the Honey, Vanilla Extract and Salt to the milk and lightly whisk to dissolve. Add the Dark and Milk Chocolates, ensuring they are fully submerged. Let sit for 4 minutes, then whisk until completely smooth, scraping the bottom and sides.
Once the hazelnuts have been roasted, put them into your food processor or blender and blend (on the highest setting) until the hazelnuts are completely and utterly as smooth as possible – I run mine for 10+ minutes until it looks almost like a liquid. Be sure to stop the processor from time to time to scrape the sides and bottom so no hazelnut crumb is left behind.
With the processor running, slowly drizzle the chocolate mixture into the hazelnut butter. When all of the chocolate mixture has been added, stop the food processor and thoroughly scrape down the sides. Turn the processor back on and run for at least 5 minutes until fully incorporated and smooth like a warm ganache.
Immediately pour into clean jars. The spread starts to set up immediately, so work as quickly and cleanly as possible.
Keep refrigerated. Lasts up to 14 days, refrigerated.
MY FAVORITE WAY TO SERVE: A swoosh of Chocolate Hazelnut Spread on a pretty plate, a delicate drizzle of olive oil, a sprinkle of salt and toasted bread.
ALTERNATE: Try this recipe with any nut or seed! I especially love sunflower, pumpkin and pecan to replace the hazelnuts. You can also replace the milk chocolate with white chocolate, if you like.