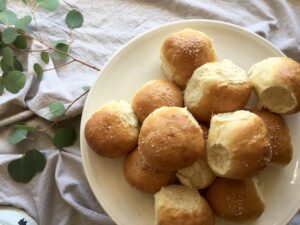 I can not stand packaged dinner rolls. I've never had a good one, and I never will. It's impossible. The pale pathetic color, the oddly dry outside and the too-doughy inside. The weird after taste. The fact that you still have to warm them up (finish cooking them?). Just ew all around. Brioche Dinner Rolls are super easy… so please do not be afraid. They are likely the simplest item on the dinner table, so they should be the best. And it will impress your guests that you "even make your own bread!".
Once you've made them, I guarantee they will continue to make an appearance… mini size for sliders, larger for hamburger buns, drenched in butter, garlic and herbs, new breakfast sandwich hero. As always, I'm sharing a basic recipe that can turn into so many delicious outstanding recipes. This recipe is extremely versatile – loaf, rolls, braid, buns, hot dog buns, you name it.
Brioche Dinner Rolls
12 large rolls, 24 minis or 8 burger buns

Ingredients
*Make sure ALL of your ingredients are at room temperature – bring them out the night before, or a minimum of 6 hours.
1 c. warm water (warm enough to feel comfortable, but not hot)
3 TBS warm milk (you can heat over the stove with the water or in the microwave)
1 TBS active dry yeast
2 TBS sugar
3½ c. all purpose flour
1 large egg
1 tsp salt
2 TBS butter
*1 extra egg + 1 TBS water OR 3 TBS melted butter for wash
*coarse sea salt for garnish
PROCESS
Be sure to read the instructions through entirely before beginning.
Set aside Cookie Sheet or Jelly Roll Pan (quarter sheet tray)
In the bowl of your stand mixer fitted with dough hook, or mixing bowl by hand, combine warm water and warm milk. Sprinkle yeast, then sugar over water and stir gently with your fingers. Wait 5 minutes and the yeast should appear to have risen on the top of the water. (If it did not, your yeast is bad or the water was not warm enough and you should start over.)
Add in flour, 1 egg, salt and butter (break up by hand so you are putting small pieces into the bowl – this distributes and incorporates faster). Mix on low for 5-7 minutes until smooth.
Remove dough hook and cover top of mixing bowl with plastic wrap or a towel – tightly. Let sit in a warm place (on the counter or table where the sun beams hit, on top of the fridge or an oven that was recently turned off) for 45 minutes or until doubled in size.
Scrape dough out of bowl onto a flour dusted counter. By hand, shape dough into a rectangle – as level as possible. The more even your rectangle is, the more consistent each roll will be. Cut dough into 12 (or 24 mini, 8 larger) pieces. (SEE: how to make a braid below, if you prefer) Cover with a towel and let sit for 5 minutes to rest before shaping.
While leaving the others covered while you work, take one dough ball and hold it with your hand in the shape of a claw. On an un-floured area of the counter, place your claw face-down with just the bottom of the dough touching. In tight, quick circles, roll the dough to make a smooth round – the dough should be moving within your hand, but your hand should never change shape. Place on prepared pan.
Repeat with each portion, and place approximately two inches apart in a 4 x 3 pattern onto your pan. Cover the pan loosely with a towel and let rise in a warm area for 30-45 minutes or until doubled in size.
Preheat Oven to 375 degrees.
With a pastry brush, gently wash each entire roll with egg wash or melted butter. Sprinkle with sea salt.
Bake for 20 min or until deep golden brown.
Let cool at room temperature for at least 15 minutes. Place in a towel lined bowl and cover to keep warm before serving. Or leave to cool completely before slicing as buns.
Always serve with extra butter! Salty herb butter for extra points!
VARIATIONS
Brioche bread is very easy to flavor with zest, extracts, dried fruit and nuts. Add any of your flavor choices, being sure not to add too much liquid, at the dough mixing stage.
A few of my favorites:
GREEK EASTER BREAD – 3/4 tsp Almond Extract, Zest of 1 Orange, Sprinkle of Sliced Almonds on the bread after the egg wash
VANILLA & CHERRY (amazing French Toast) – 1 TBS Vanilla Extract, 1 cup finely chipped Dried Cherries
EVERYTHING – 2 TBS "Everything Bagel Seasoning". Sprinkle additional on after the egg wash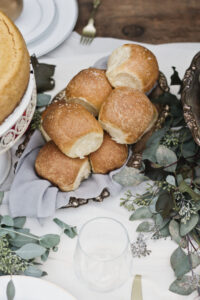 HOW TO MAKE A BRAID
After the first rise, cut the dough into 3 or 4 equal pieces (choose based on your braiding skills).
Roll each piece into balls. Lightly drape plastic wrap over the balls to keep them from drying out while you work.
Working with one ball. Start from the center and gently push down and out, in a back and forth motion to form a dough "rope" shape – approximately 12″ long. Set aside and repeat with all of the dough balls.
Line all of the dough ropes next to each other in a vertical line, about 2″ apart from each other.
Lay the very tops (about 1″ worth) of the ropes on top of each other pressing down to seal.
Starting with an outer rope, complete your braid until the end and seal like in step 5.
Gently tuck the top and bottom seals under the braid and transfer to a pan to rise.
Proceed with STEP 7 above.
OPTIONAL: Place dyed or un-dyed hardboiled eggs in the seams immediately when the bread comes out of the oven.