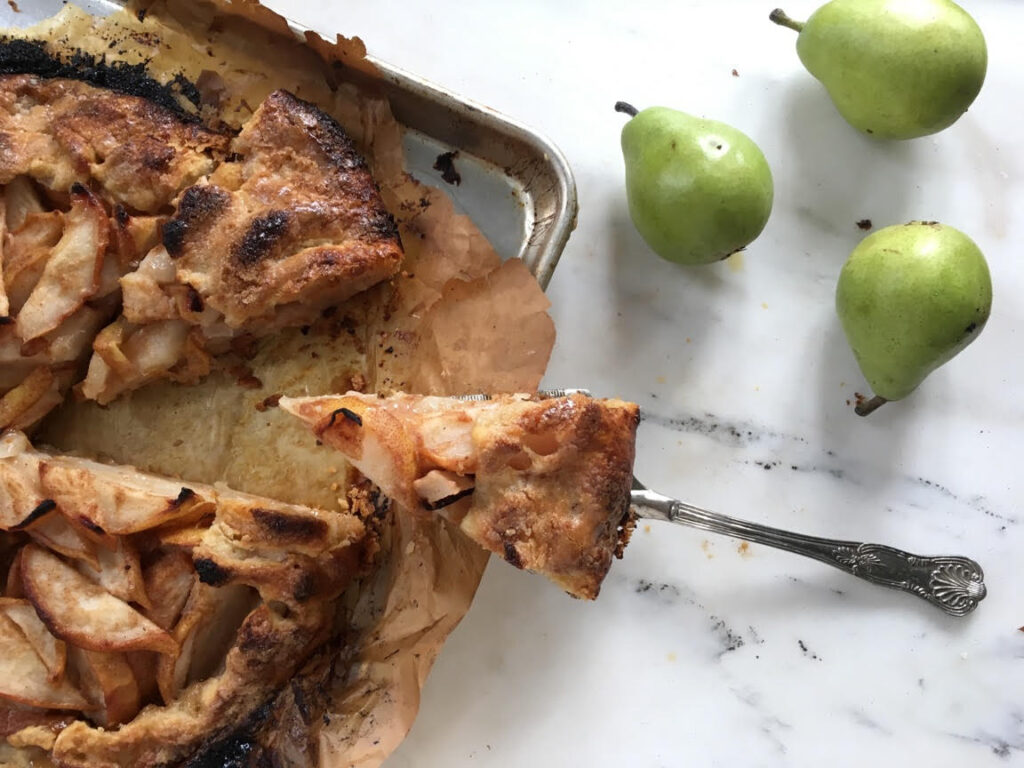 One of my very first "signature" desserts (we're talking junior high here!) was a beautiful berry galette. I don't love pie, but I LOVE a galette. I quickly realized that just about anything (sweet and savory!) can be layered into this crust and next thing I knew, my family was all "seriously, another galette, Candice?!". These days, galettes are way more common, which is good and equally like, wait a second, haven't I been doing this for, like, ever. I'm just so ahead of my time.
A galette is a thinned down, unfussy (aka, not as much work), refined in flavor, rusticly shaped French pie (or a crostata in Italy). And it's perfection. I promise you'll be converted. Here, I am featuring lovely pears (grown in my backyard) that always seem to go ignored in the height of apple season. Spiced up with a few autumnal flavors,  There are a few steps, but all super easy, and I'll share my tips to make them even simpler! Easily justified to be breakfast with a little Greek yogurt on top, I hope you will keep my easiest dessert in the front of your recipe box. And when it comes to fillings – please try this recipe every season with your favorite fresh fruits – it's so adaptable to whatever you have on hand.

AUTUMN PEAR GALETTE
Recipe: Candice Hunsinger
Dough Ingredients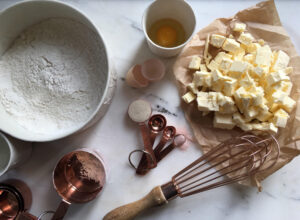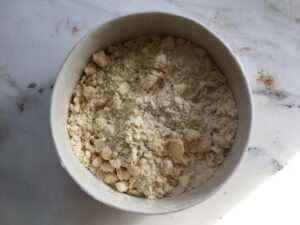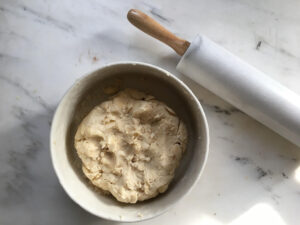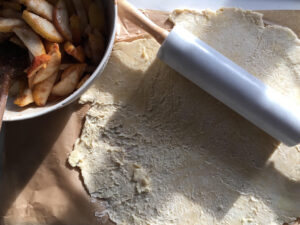 2 c. all purpose flour
3 TBS sugar
1/4 tsp. salt
3/4 c. butter (1 ½ sticks) – cold
3-5 TBS ice cold water
*egg wash (for assembled galette) – 1 whole egg whisked together
Directions

Combine the flour, sugar, and salt in a mixing bowl. Whisk to incorporate.

Cube butter and add into flour mixture until it resembles a pea size – within reason, don't obsess. (P.S. I did this by hand, because I like to be one with my baking, but you can easily do this in a stand mixer. Not ideal, but I won't lie and say I've never done it before – secrets safe with me!)
Slowly add the water, 1 tablespoon at a time, just until the dough comes together – you want it to be smooth enough to roll out, but still with a little flake (test roll a little piece if you aren't sure!).
Flour the disk on both sides. On a floured surface or between two pieces of parchment, roll the dough out into a round shape until just under ¼" thickness (it's okay to have cracked edges – they add to the charm!).
Place onto a parchment lined cookie sheet. Keep at room temperature! (psst: most recipes will tell you to shape into a disk and refrigerate before rolling out. Lame. I prefer to roll out while the dough is soft and workable and refrigerate later. You'll see!)
Filling Ingredients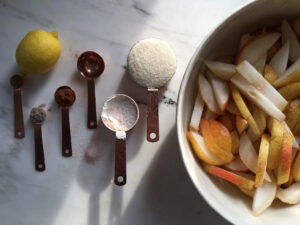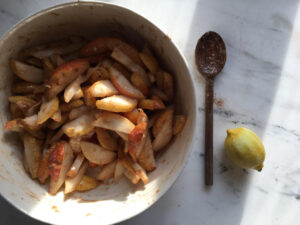 6 ripened pears, sliced (you can also use apples here, if you prefer, but promise to try it as pear at least once!)
1/2 c. sugar
1 tsp cinnamon
1/4 tsp ground cardamom
1/4 tsp ground nutmeg (fresh if you have, but no big deal if you don't)
1/2 tsp almond extract, optional
Juice of 1 lemon or orange (pick what you have on hand or your favorite)
3 TBS flour
1/4 tsp salt
Combine all ingredients until well mixed. Set aside to assemble.
Assembly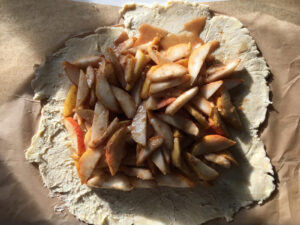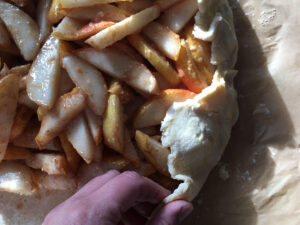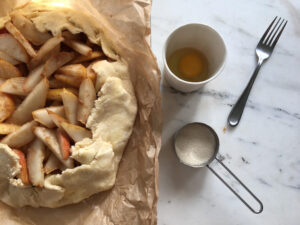 Pre-heat oven to 400 degrees.
Place fruit mixture in the center of the dough, patting out slightly to make sure you have a fairly even mound (so it will bake evenly).
Carefully bring up the edges of the dough over the fruit, overlaying each section as you go to create "folds".
Make sure to seal, by pinching together, any cracks in the dough toward the base.
Refrigerate the assembled galette for 1 hour.
Brush with egg wash thoroughly.
Sprinkle the dough with coarse sugar.
Bake 35-40 minutes or until medium golden brown.
Let rest for 30 minutes before cutting. Serve on the parchment paper for an extra comforting touch!
Top with a little whipped cream or whipped greek yogurt if you like and sprinkle with sliced almonds. Totally optional, but if I were you… Ice Cream!