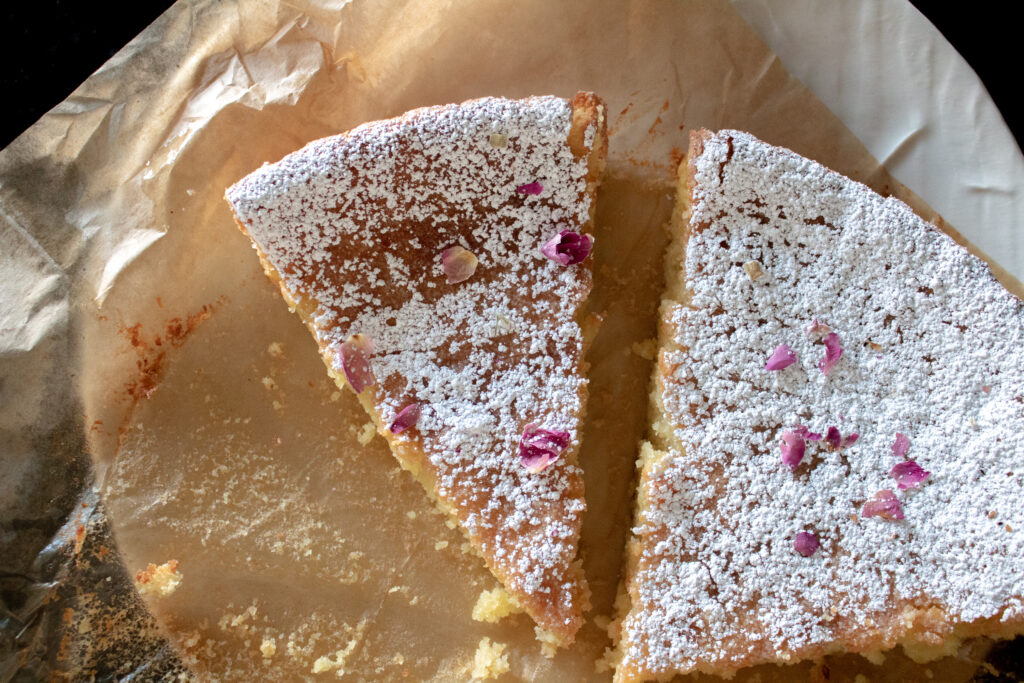 A cake not meant to be anything other than delicious. Often, my favorite recipes develop when I'm using what I have on hand, like when I'm out of cake and all purpose flours. I don't bake flour-less or gluten free on purpose, but this happens to be and it's just right.
Almond, Lemon & Rose Flour-less Cake
Yields: 1 – 9″ cake, Serves 10
*Baker's Note: Not to be a broken record, but all of my ingredients are non-gmo, mostly organic (quality is better than a label, my friends!), and from sources I have researched. At my bakery, I am constantly asked why my cookies or cakes are so amazing and my answer is always quality of ingredients. It is no joke, and I guarantee it will be a game changer with the simplest and trickiest recipes.
Ingredients
CAKE
1/2 c. Olive Oil (I love Village Batch Olive Oil!)
1/2 c. granulated cane sugar
1 lemon, zested & juiced
1/4 c. fresh lemon juice
1 tsp vanilla extract
4 large eggs
1 1/2 c. almond flour
1 tsp baking powder
1/2 tsp baking soda
GLAZE
1 tsp rosewater
Juice from 1 lemon
2 TBS honey
2 TBS water
GARNISH
1/2 c. powdered sugar, for dusting AFTER the glaze dries
Process
Preheat oven to 350 degrees and butter a 9″ tart or springform pan, line the bottom with parchment paper & butter the paper.
In the bowl of your stand mixer, fitted with the whisk, whip the eggs and sugar on medium-high speed until light, fully and pale yellow (think loose whipped cream) – about 5 minutes.
Add the lemon zest, lemon juice, olive oil and vanilla extract, and whip for 3 minutes on medium speed.
Add the almond flour, baking powder and baking soda and stir in, on low speed, until just combined.
Gently pour into the pan and level.
Bake for 45-50 minutes, or until the top is set and the cake is dark golden brown. A toothpick test will have crumbs attached.
5 minutes before the cake comes out of the oven, make the glaze. In a small saucepan, place the lemon juice, honey, rosewater, water and heat until the honey is melted and the mixture comes together.
Gently drizzle over the hot cake, especially on the edges.
Let cake cool for 20 minutes in the pan, then run a knife along the sides of the pan before removing the ring.
Cool cake for another 10 minutes or so before removing the bottom and transferring to your serving platter.
Optional: Using a sifter, dust with powdered sugar and garnish with rose petals.