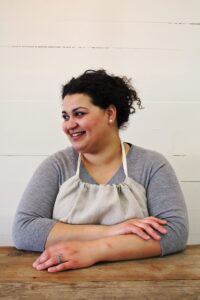 Obsessive ingredient checker (no seriously, I don't buy anything until I read every last line), crazy tall cake creator, former bakery owner, professional eye roller, wife of the sweetest husband (we've been best friends since 8th grade!), most-of-the-time OCD kitchen organizer, lover of flowers, homebody, and crafter of snarky emails.

My easy approach in the kitchen is the honest expression of my intense love for clean & classic cooking/baking, home making, and entertaining. I live to encourage you to enjoy time in your kitchen and make life a little easier while using the best ingredients you can get your hands on. My goal is to prove that "organic" doesn't have to be fussy. I view fresh, local, organic ingredients (in the entire home) as the only option, but in an attainable way.
candicehunsinger.com will offer straight forward kitchen and home recipes, and lifestyle tips from an unfussy professional baker and home cook.
I live in a charming water town in Connecticut with my husband, Adam, and our snobby dog, Cash. I am the wife half of IVORY & IRON where we share our adventures in renovating our 1790 Federal Home & Barn that includes our lifestyle shop and airbnb (yes, there tends to be a cookie or two for our guests).
P.S. All photos are taken on my phone and are unedited, because real life on the go > something unattainably doctored. Everything you see here is real life – just as it should be! Please be sure to credit any photos or content to Candice Hunsinger/candicehunsinger.com if you share. If you don't, a snarky email will likely show up in your inbox, just saying.